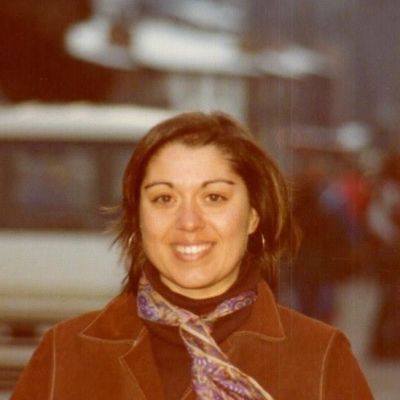 Helen
Eleni
(Theos) Stelter
Help us celebrate Helen! Please share your stories and photos, and invite others who remember Helen.
Eleni passed on Tuesday May 17th, 2022 after a long struggle with dementia. She had in her life been a professional singer, chef, mentor to many, a storyteller par excellence, and a bon vivant. There never was a party where she didn't make a grand entrance and thoroughly enjoy herself. She was proud of her Greek heritage and loved educating all those around her about the small nation.

Born in Grand Junction on November 5, 1948 to Gus and Sophia Theos, she grew up a proud descendant of sheep ranchers and priests. The family spent summers at Hubbard Park outside of Paonia, where Gus summered his sheep. After her parents divorced she split her time between Boston and Cape Cod, and the summer ranch outside of Paonia.

She graduated with honors from CU-Boulder in 1972, took her GRE exam while traveling in Europe with her high school sweetheart and first husband, Fred Browne, and enrolled at Emerson College. Eleni graduated in 1974 with her Master's in Literature and Interpretation of Theatre, which is about as fitting a degree as one could imagine for someone with such a flair for the dramatic. She and Fred later divorced, and she joined her sisters in Vail, where she was the star singer at Kostas Greek Taverna.

Eleni moved to Aspen to start her own restaurant and on one fateful Halloween she met her husband Rick; him dressed as a red devil, and her as Indira Gandhi. Their romance was total, and soon children arrived. They relocated to Paonia, which was almost inconceivable to her, but the small mountain town grew on her and was a great place to raise their family.

She and Rick had three sons: Deno, Harry, and Demitri, whom she loved with all her heart and was always there for advice, whether they wanted it or not. She pushed them to excel, and was endlessly proud of their academic, theatrical, and (albeit limited) athletic successes.

Eleni ran her catering business first out of their home and later out of a small space in Hotchkiss behind Julie Littlefield's art gallery, where she catered many a Primrose Lane dinner. In 2004, after years of people pleading, she and Rick opened up Eleni's Uptown in Paonia, followed the next year by Eleni's Downtown in Hotchkiss. Eleni and her friend and business partner, Elisa Greco, created fabulous meals and made great memories for all who visited.

She is survived by her husband Rick, sons Deno, and Demitri, her sister Katie and half-sister Kandi, and many nieces and nephews. Several of the high school students she trained at her restaurant in Paonia have continued on to become executive chefs in Vail and Cape Cod, and she couldn't be prouder.

She and her husband Rick lived an adventurous life, building businesses and restaurants together, traveling and enjoying life. Her days were cut short and they missed out on going to Greece together.

Eleni was a fierce woman, with fierce love for her kids, travel, food, and always up for a good time. She took big bites of life and never feared to risk it all, whether over a political fight, or starting a new business on a shoestring budget with only hope to support it. She will be sorely missed by her husband, her sons, and her many friends all over the world.

If you would like to upload pictures or videos for her memorial video, please visit the following website: https://tinyurl.com/EleniTheosStelter

In lieu of flowers, the family asks that you donate to the charity of your choice. As a lifelong feminist and proud Democrat, donations to Planned Parenthood, local libraries, or scholarship funds would make her proud.
LINKS

Grand Junction Daily Sentinel Obituaries
http://www.gjsentinel.com
Delta County Independent
http://www.deltacountyindependent.com