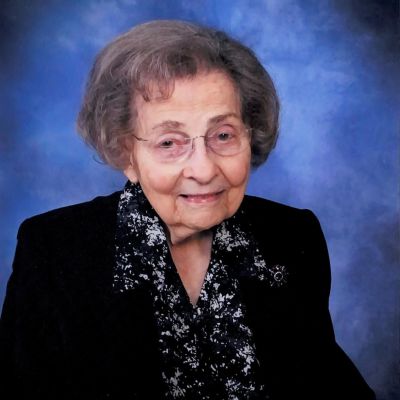 Helen
Elizabeth
Myers
Join us in celebrating Helen—please share your stories and photos, and help spread the word about this page!
Helen Elizabeth Scott Myers entered into eternal rest on Wednesday, March 3, 2021, in Seguin, Texas, at the age of 96. She was born on July 9, 1924, in Raymondville, Texas, to Ralph Edward and Emma Jane Thompson Scott. She graduated from Raymondville High School in 1941 and attended Texas A&I College as a music major. She was a resident of Stockdale for 70 years. On April 8, 1944, Helen was married to Joe Allen Myers in Hays, Kansas. Together, they purchased Salmon Funeral Home in Stockdale in May of 1951, which became Myers Funeral Home. Soon after, they opened Stockdale Monument Company, which is still in operation today. She was a true partner to her husband, assisting with arrangements, music, administrative work, and most importantly, serving the grieving families in the community with compassion and love. It was her ministry, and she showed the love of Jesus to everyone who entered. Helen was a dedicated member of the Stockdale church of Christ. She served her church family as a Bible class teacher for many years and started a card ministry, where she sent out notes and greeting cards in order to encourage or support church and community members. She cared so deeply about the people around her that she would phone anyone who she noticed was missing from church service or a community event to make sure they were well. Together, she and Joe had two beautiful daughters, Janell and Susan. Even though the family business kept her busy, Helen was very active in supporting her girls at school. She volunteered multiple times as a room mother and was an involved member of the Stockdale PTA. She further served her community as a member of the Stockdale Chamber of Commerce for many years. This led to her eventually filling the role of the Stockdale Jubilee Coronation Co-Chair with her daughter, Susan. Helen had many dear friends, and one of the ways she loved to spend time with them was as a member of the Stockdale Blue Bonnet Club. The club, founded in 1923, was a way for women to support each other and the community through service projects, including visits to the local nursing home and Christmas projects for the residents there. She was a member for 57 years. She and Joe traveled extensively throughout the United States, through both the funeral service and monument industries. They showed true courage by taking their four beloved grandchildren on many of these trips, building lifelong memories. Helen continued making precious memories with her eight great-grandchildren, who were the greatest joys of her life. She held numerous tea parties for her 8 Greats, as she called them, and competed against them in many games of dominoes and Uncle Wiggily. Her deep faith and desire to share the gospel of Jesus was the most important thing in her life, and her legacy will live on in her family, whom she raised to know and love Jesus. Helen was preceded in death by the love of her life and husband of 55 years, Joe Allen Myers; her parents, Ralph and Emma Scott; sister-in-law, Lorene Scott; and sister-in-law, Lola Myers Barnett. She is survived by her daughters, Janell Akin and husband, Johnny, and Susan Coon and husband, Mike; grandchildren, Scott Akin and wife, Barbara, Kristina Harrell and husband, David, Stephanie Jones and husband Marc, and Kathryn McDaniel and husband, Jody; great-grandchildren, Sydney Harrell, Austin Akin, Collin Akin, Caitlin Jones, Chloe Harrell, Jacob McDaniel, Tyler Jones, and Liam McDaniel; brother, Howard Scott; cousins, Vivian O'Neal and Mary Rhodes; chosen family Perry and CJ Rutland, Seth, Stephen, and Rebekah; devoted caregiver Janice Krueger; numerous nieces and nephews and a large number of extended family and friends. Funeral services will be private due to concerns regarding covid. Donations in Helen's memory may be made to LaPoynor Church of Christ Prison Ministry, 1113

Stonebook Drive, Chandler, Texas 75758 or to the charity of your choice.
LINKS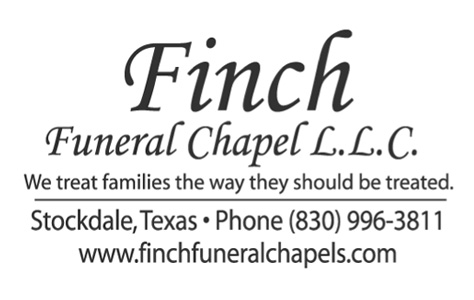 Finch Funeral Chapel - Stockdale
Raymondville Chronicle News
http://www.raymondville-chronicle.com
Memories
Looks like something went wrong.
Reload the page and try again.