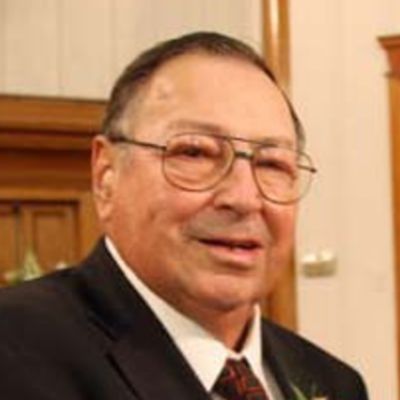 Harvey
Thomas
Koshatka
Loving father and grandfather, avid fisherman, and an enjoyer of flying.
Harvey Thomas Koshatka, age 76, died in his home on Saturday, Feb. 14 after a brief illness.

Harvey Thomas Koshatka was born February 2, 1933 at his parent's rural farm home near Lourdes, Iowa. He was the son of Frank and Josephine (Tlusty) Koshatka. He attended elementary school in Lourdes. He attended high school in Cresco. Due to this father's health, he farmed the family farm until he was united in marriage with Beverly LaVonne Albertson on April 12, 1955 at the Our Lady of Lourdes Catholic Church. They became the proud parents of Steven and Cheryl. They farmed in the Lourdes area for 12 years. He became employed at Donaldson Company in Cresco in the fall of 1965. The family relocated to Cresco in the spring of 1966 where he remained employed with Donaldson Co. for the next 32 years. After his retirement, he was an EMT for Regional Health Services of Howard County and currently was Cresco airport manager until his death.

Harvey was an avid outdoorsman. He had many special interests that included flying his airplane, fishing and hunting with friends and family, golfing, bowling, table pool, boating, and motorcycling. In earlier years, he drove a stock car (#140) at the local races. Harvey and Beverly enjoyed bus travel after their retirement. He loved his grandchildren and enjoyed spending quality time with them. He recently purchased a new John Deere riding lawn mower, which he thoroughly enjoyed and was proud of.

He is survived by his wife, Beverly of Cresco, one son Steven and wife Shirley (Wiemerslage) of Cresco, and a daughter, Cheryl Riha of Cresco. Grandchildren: Andrew Riha of Los Angeles; Brandon and Megan (Speer) Riha of Cresco recently married Sept. 6, 2008; Bryan Riha, a second year student at Drake University in Des Moines who is currently studying abroad in Cape Town, Africa; Tyler, Tiffany, and Tara Koshatka of Cresco. As well as cousins from Iowa and Minnesota.

His parents, Frank and Josephine Koshatka, preceded Harvey in death.

His most treasured heirlooms are the sweetest memories of family and friends.