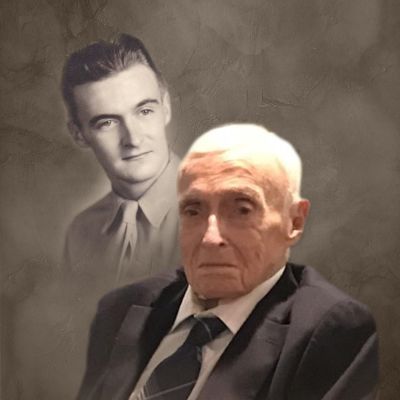 Harry
A.
Wolfe
Join us in celebrating Harry—please share your stories and photos, and help spread the word about this page!
Harry A. Wolfe, age 99, died on October 31, 2019, at the Indiana Masonic Home in Franklin. Born in Indianapolis on July 16, 1920, Harry (also known affectionately as "Snuffy") was a handsome, funny, feisty man-a war hero who lived most of his life in physical pain and handled it better than most would.

Harry was a veteran of World War II, in which he served as rifleman for Company G, 318th Infantry Regiment, 80th Division, Third Army, under the command of General George S. Patton. For his distinguished service and injuries sustained during combat in France, he was bestowed two of the U.S. military's greatest distinctions: the Bronze Star and the Purple Heart. One year before his death, Harry was presented with the Legion of Honor medal, France's highest tribute, for his participation in the liberation of France during World War II.

Harry overcame a difficult childhood, having been born into poverty and orphaned at the age of 14. Ultimately, he was taken in by the family of an acquaintance, Jack Heskett, with whom he developed an enduring friendship and brotherhood. He married Elsie Perkins in 1940, and daughter Diane, ever the apple of his eye, was born the next year.

Harry was inducted into the Englewood Masonic Lodge #715 in Indianapolis the night before he shipped off to war, and remained a devoted member throughout his life. He recently joined the Knights of Pythias and the Indianapolis Valley of the Scottish Rite.

Harry had a magnetic charm and collected friends and fans wherever he lived. He was known for his quick wit, his fondness for wordplay and puns, his love of animals, and his deep and abiding patriotism. He will not be forgotten.

He is survived by daughter Diane Wolfe Ross (Eugene) of Indianapolis, IN, grandchildren Shelley Ross of Indianapolis, IN and Shannon Ross (Dean Metcalf) of Indianapolis, IN, great-grandchildren Gordon McNulty and Elsie McNulty, half-brother John Wolfe of Indianapolis, IN, and numerous nephews and nieces. He is preceded in death by parents Harry and Elsie (Riley) Wolfe, sister Helen Collester, brother Theodore Wolfe, wife Elsie Perkins Wolfe (mother of Diane), and wife Bobbie Snyder Wolfe.

A Masonic service will be conducted on Sunday, November 10, at 4PM at the Ransford Chapel at Compass Park, 690 South State Street in Franklin, Indiana, where a service conducted by Chaplain Elaine Clark will immediately follow. Friends may call and visit at the Ransford Chapel Sunday, November 10, from 2PM until service time.

A graveside service with military honors will be conducted at Old Goshen Community Cemetery in Goshen, Vermont. Swartz Family Community Mortuary and Memorial Center 300 South U.S. 31 (Morton Street) in Franklin, Indiana, is handling the arrangements. Online condolences may be sent to the family at www.swartzmortuary.com. Information 317-738-0202.


LINKS

Swartz Family Community Mortuary and Memorial Center
http://www.swartzmortuary.com

Daily Journal (Franklin)
http://www.thejournalnet.com