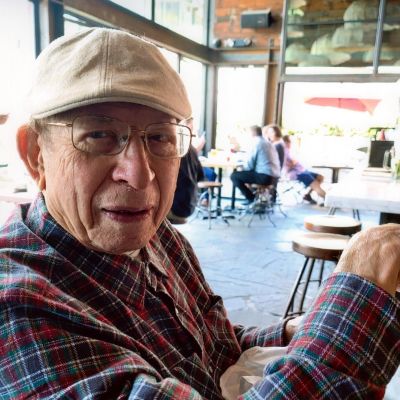 Harry
Irving
Leon
How do you know Harry? Please share your stories and photos, and help spread the word about this page!
Dr. Harry Irving Leon PhD PE, surrounded by his family, passed to His Creator, on February 11, 2022 at the age of 87. Dr. Harry Leon's funeral will be held at 11am on February 15, 2022 at the H.M. Patterson & Son?Oglethorpe Hill, 4550 Peachtree Road NE, Brookhaven, GA 30319. (404)261-3510

Dr. Harry Leon was born in Brooklyn, NY in 1934 to Alexander Leon and Anna Rebecca Schrek. He was second-youngest to siblings; Arthur, Arlene, (Harry), & Anita. He was preceded in death by Dr. Arthur Leon, MD (just 6 days prior), and Arlene Leon Leider.

Of his many accomplishments, Harry earned his: Bachelor of Aeronautical Engineering from University of Florida, 1956; Masters in Nuclear Engineering from University of Washington, 1960; Professional Engineer certification, 1963; & PhD in Mechanical Engineering from Colorado State University, 1973; & American Institute of Chemical Engineers certification, 1975. Dr. Leon was a professor of Mechanical Engineering at the University of Mississippi (1972-1977) as well as Professor of Design & Systems Engineering At Georgia Institute of Technology (1978-1979).

Of his professional career, Dr. Leon was most at home with his business as a certified Patent Agent. He believed in being an accessible service to all inventors, and of the 200+ patents he filed for his clients, he is most proud of the 7 patents filed for his son, Michael Leon.

Of his impact on the world, the greatest gift was his problem solving skills and the grit to tackle hard and large projects in life. In Oxford, MS, he protected the water system from toxic chemicals by engineering a chemical recycling system. In Atlanta, Dr. Leon was a cornerstone for protecting his community. This included advocating for cleaning up pollution of the rivers, better design and control of the water system and safer transport of volatile chemicals in the nearby railyard. He instilled his love of recycling, mechanical skills and problem solving in all his children.

Of Harry's hobbies, he had a passion for health, running, and working with his hands. Working out at the YMCA was a favorite past time. He ran the Peachtree Road Race 28 times and completed 4 marathons, his last at age 75. His fascination and experimentation with natural medication had but one goal, to extend life. He would share his findings with friends and family, really anyone who would listen. He could often be found selflessly helping others with any number of projects.

He was a tender, loving parent and husband to his family. But above all, he made the world a better place.

Dr. Harry Leon leaves behind:

his sister, Anita Leon;

sister-in-law, Dr. Gloria Leon;

his wife of 28 years, Joanne Dumlao Leon;

sons, Michael Anthony Leon (Betsy Leon) and Robert Schrek Leon;

daughters, Angelina Cecilia Leon Brummett (Harold Brummett); Alexandra Anna Leon Khan (Saif Khan);

Grandchildren, Patricia and Joseph Brummett, Jessica Leon Minigh (Nate Minigh); Samantha Leon;

great grandson, Landon Michael Minigh;

nieces: Cindy Leider Rich; Denise Leon Venables, and Michelle Leon.

Nephews, Mark Leider, and Harmon Leon.

Beloved caretaker, Carol Battiste.
LINKS

H.M. Patterson Son, Oglethorpe Hill Chapel
The Oxford Eagle
http://oxfordegle.com