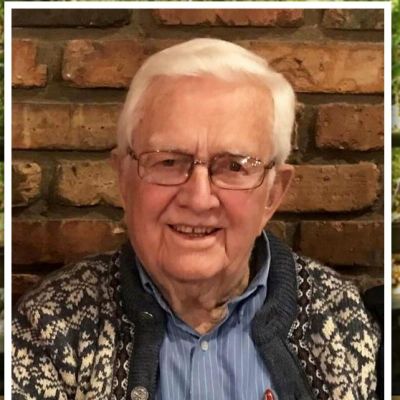 Harlan
T.
Rosvold
What do you remember about Harlan? Share your stories and photos here, and invite others to come share their memories.
Harlan T. Rosvold, 98, of Oak Park Heights, MN died at home on March 7, 2023. Harlan (aka Holly) was born March 6, 1925 at the Northfield Hospital while his parents, Emil and Eva (Haugen) Rosvold, were residents of Dennison, MN.

He attended school in Hatton, ND and graduated from Kenyon High School, Kenyon, MN. In 1947, he married Joyce Dalbotten and they began raising their 6 children in Kenyon. In 1959, he moved the family to Mendota Heights, MN, when he began working for Cenex in the Construction and Engineering Department.

Harlan enjoyed being involved in his children's activities. He coached some of their sports.

Harlan was a proud WWII Marine Corps veteran serving in Saipan, Tinian and Iwo Jima. He and Joyce returned to Iwo Jima for the celebration of the 40th anniversary flag raising.

He loved woodworking. He built from scratch over a dozen grandfather's clocks and made 100s of beautiful, small in-laid bowls. He was a talented craftsman.

He also loved watching the Minnesota Twins.

Survived by wife of 75 years, Joyce (Dalbotten), children Dawn Rosvold, Greg (friend Carol), Vickie Hart, Todd (Sue), Steve (Pat). Grandchildren: Jim Rosvold, John Rosvold, Betsy Jensen, David Risius, Adam Risius, Eric Hart, Lee Rosvold, Brett Rosvold, Alaina Dearing, Kristin Anderson, Riley Rosvold and Michelle Rosvold and 16 great-grandchildren. Preceded in death by his 9 siblings, daughter Bonnie and her husband John Risius, and daughter-in-law Jan (Muehlegger) Rosvold.
LINKS
APG Southern MN House Account

Kenyon Leader
http://www.southernminn.com/the_kenyon_leader