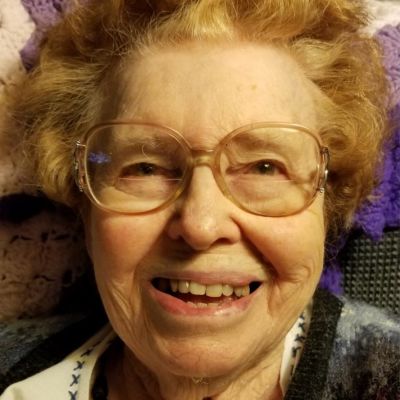 Grace
R.
Owen
How do you know Grace? Please share your stories and photos, and help spread the word about this page!
Grace Carmlette (Richardson) Owen was born to William Winfree and Gracelyn Arline (Driscoll) Richardson on September 17, 1922 in Barhamsville, Virginia. She had 5 siblings: William Winfree,Jr., John Avery, and Anne Bernice Monacell pre-deceased her; Frank Raymond and Gary Meade are still living. She was the big sister to them and very much enjoyed their relationships, especially during her last 20+ years.

Grace loved her family so much. She and her husband James Bishop Owen (Jim), who pre-deceased her, published a family newsletter, The Owenews, each and every month after they married on July 13, 1946. Recently, Grace began compiling the memories of her life. She had completed the period 1922-1964 and hoped to finish them while recovering from her recent medical procedures. Many of her memories are of family cross country camping trips (she visited all 50 states) and her travels with Jim to 15 countries (often with the Elder Hostel Program.) She enjoyed her children and grandchildren visiting at 907 South College Avenue, and later at White Chapel Village, where she lived for more than 20 years. Having her daughter Susan move directly across the street, allowed Grace to remain mostly independent, until her recent hospitalizations.

Grace met her husband Jim at Georgetown High School, where she taught business for 8 years. She took time off to have children and resumed teaching when Susan became five years old. A year later, in 1960, the family moved to Newark. Grace worked one year for the Dean of the U of DE Agricultural School, and taught a year at Newark High School before teaching at Christiana High School for the next 22 years. She really enjoyed teaching in the same school with Jim and where all three of their children attended.

Grace was very active in her Newark United Methodist Church. (NUMC). Her faith meant a lot to her, demonstrated by the life she led, and nurtured through her daily devotions from The Upper Room. Mrs. Wilson's Bible Class, UMW Circle, and Trying Christians were how she pursued discipleship.

She was also very active in three service clubs: New Century Club (GFWC), Family Community and Education, and American Association of University Women; serving as president and other officers. She enjoyed making quilts for her children and grandchildren with the Ladybug Quilters. Her last were two beautiful "Quilts in a Box" made for her two younger brothers.

Grace was looking forward to returning home and having the caregiver rotation Susan had organized, but God called her home to be with Jesus, Jim, her parents and other relatives late in the evening of April 23, 2021. She had a full 98 years of great living and began to experience shortness of breath and congestive heart failure in her 99th year. Even in those 98 years, she rarely experienced pain. People were often surprised at her age, because she was so youthful. Grace really benefited from her younger friends!

She is survived by her three children: James Richardson Owen (Alexandra Ackles), William Walter Owen (Gail Logsdon), and Susan Arline (Owen) Sheldon (Paul Harold); her nine grandchildren: Jonathan Richardson Owen (Margaret Whitford), Lauren Elizabeth Sheldon (Julie Farrell), Rebekah Elizabeth Owen, Joshua Clayton Ackles Owen (Sarah Eckfeldt), Andrew William Owen (Katin Costley), Jason Paul Sheldon (Debora Henglen), Jeremy James Ackles Owen (Kelcey McLaughlin), Ian Michael Owen (Chelsea Bedwell), and Joel David Owen (Stephanie Mason); and 8 great-grandchildren: Benjamin, Charlotte Grace, Daniel, Riley Grace, Eliza, Jace, Edmund, Hadley Rae (and another due mid-July!). Also surviving is Grace's CHS '72 Finnish foreign exchange daughter Leena (Huotilainen) Salonsaari.She is also survived by many beloved nieces, nephews, great-nieces and great-nephews who looked to her as the matriarch of the family. One of her greatest joys was attending many of her extended family weddings which were like family reunions. She was the glue that bound us together and will be sorely missed by all of her family members, as well as her numerous friends and former students, two of whom are neighbors. She loved making her scrapbooks and photo albums. She is one of the most documented persons ever! That's our Amazing Grace!

A Celebration of life will be held at 2 PM Saturday August 28, 2021 at NUMC. In lieu of flowers, donations may be made to NUMC and sent in care of R.T. Foard & Jones Funeral Home, 122 W. Main Street, Newark, DE 19711. To send online condolences please visit, www.rtfoard.com. Burial will be later in 2021 in Virginia.
LINKS

R.T. Foard Funeral Home, P.A.

The Newark Post
https://www.newarkpostonline.com