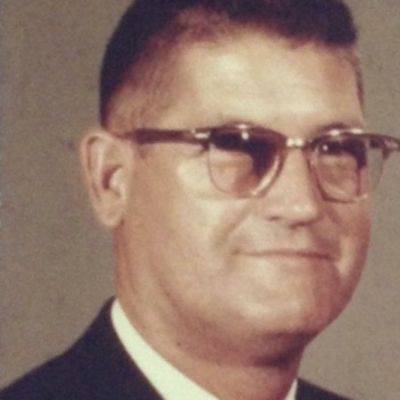 Gordon
Isaac
Parks
He loved his family, sometimes a hard taskmaster but always wanted the best for his family. He loved sports, enjoyed coaching Little League baseball and followed all the sports games in Texas. He was well liked.
Gordon Isaac Parks was born April 28, 1911, in Hutchinson County, Texas, USA. His parents were

William Roscoe Parks and Cora Elizabeth Mathews. Sibyl Drucilla was his younger sister. He

died at King's Daughter Hospital, on July 25, 1985, in Temple, Bell, Texas. When he was 25, he

married Edna Marie Berg, daughter of Eddie Berg and Anna Marie Dotson, on June 11, 1936, in

Texas.

Gordon Isaac Parks lived in the Hutchinson and Moore Counties in Texas, from 1920-1962. He

owned and operated plumbing companies between 1948-1962, in Dumas and Borger,

Hutchinson, Texas.

Gordon and Edna were hard-working and very active people. He was a deacon in the First

Baptist Church. She always saw that her children had something new to wear for Easter

Sunday church services. Gordon was called "G. I." or "Parky" by his friends; he enjoyed

coaching Little League baseball and was well liked and joked with everyone. He was, however

a hard taskmaster.

He insisted that his sons, Gerald and Steve get a journeyman's plumber license while in high

school and was determined they get a college education. Edna operated and owned the AundefinedW

Drive Inn and Borger Cafeteria at Borger Lanes, a favorite bowling alley with a cafeteria. She

also kept the accounting books, payroll, taxes, etc., for all three including Borger Plbg undefined

Heating, co-owned with Edna's brother Philip Edward Berg.

Gordon and Edna were always buying houses; they moved at least ten times between

1950-1962. In later years they enjoyed life, spending time with their daughter in Samata,

Sulawesi Selatan, Indonesia, and Lybia. Finally, they enjoyed lots of fishing on Lake Powell,

Arizona.

Edna's debilitating disease of ALS overshadowed Gordon's last seven years. He was

supportive and loving during this horrible time for the family. He was a widow December 18,

1978, in Borger, Texas. His cause of death was a cardiopulmonary collapse in 1985 in Texas.

He was buried on July 27, 1985, at West Lawn Memorial Park, in Borger, Texas.

Gordon Isaac Parks and Edna Marie Berg had the following four children:

1. Dolores Ann Parks was born on October 13, 1937, in Dumas, Moore, Texas. She married

William Henry Dorsett about 1960 in Borger, Texas, She married William Justice Horton on

November 30, 1991, in Bexar, Texas. Dolores died unexpectedly of a rare disease called

Wegener's granulomatosis, respiratory failure on July 23, 2017. Her son, James "Jimmy"

Dorsett died February 27, 2016.

2. Gerald Gordon Parks was born on August 2, 1942, in Dumas, Texas. He married Deanna

Louise Carpenter in 1965. They adopted Deanna's two boys and had two boys of their own.

3. Stephen Edward Parks was born at Moore County Hospital on November 29, 1943, in

Dumas, Texas. He married Michael John Krauchenko on August 6, 2013, in California. This

union began in May 2000.

4. Kitty Sue Parks was born on November 10, 1946, in Amarillo, Potter, Texas. She died on

June 29, 1985, in San Antonio, Bexar, Texas. She died in a one-car accident speeding on a

Texas highway late at night, hitting a grove of trees. She died at the hospital that night. Kitty

married Robert Gaiser on February 22, 1964. Their only child Robert was killed in a traffic

accident in San Antonio, Texas Feb 14, 1984. At the age of 68, Gordon married Jean Malone on June 2, 1979, in Burnet, Texas. When he was

70, he married Gladys M. Reynolds on June 6, 1981, in Burnet, Texas. When he was 71, he

married Velma Ashcraft on November 14, 1982, in Round Mountain, Blanco, Texas. The later

marriages are the result of trying to find the happiness and not be alone. He did not fight for

life after developing lymphatic cancer.

There were no children by these later marriages.