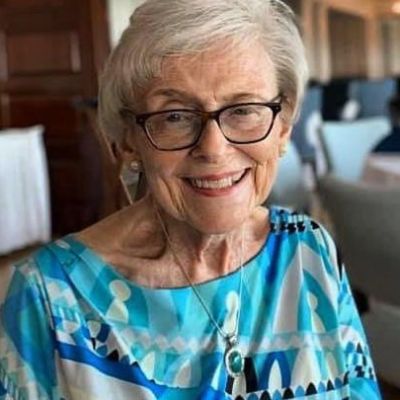 Gloria
Graham
Did you know Gloria? Please share your stories and photos, and help spread the word about this page!
Dr. Gloria Graham, 86, of Pine Knoll Shores, passed away peacefully at her home on September 30th, 2021.

A celebration of her life will be at held at 2:00pm on Saturday October 9, 2021 at All Saints Anglican Church, 292 McCabe Road in Newport, North Carolina. A live stream of the service will be available at https://www.allsaints.live

Gloria was born in 1935 to Dr. James Meigs Flippin and Ida Mae Flippin of Pilot Mountain North Carolina. Growing up in Pilot Mountain, she played the piano, the clarinet and studied ballet in her high school years. She also had the unique perspective of watching her father, a country doctor, and her mother, his nurse, care for thousands of patients in their home and when she traveled with them to make house calls. Her father, who was born in 1863, continued to practice medicine until his death in 1961 at the age of 97.

In 1957 Gloria graduated from Wake Forest College Magna Cum Laude. During her interview for medical school at Bowman Gray, now Wake Forest School of Medicine, she was asked why she wanted to go into medicine. Since her grandfather, father and half-brother were all physicians, she responded, "Well, If I don't go into medicine, I'll have to figure out how to get out of it." She received her MD from Bowman Gray in 1961 as one of just six women in her class. In 1962, she completed an internship at Vanderbilt University as the only female intern in the hospital and then began her residency at the University of Virginia.

In 1958, Gloria Flippin married Douglas Graham after they met as students at Wake Forest College. In the mid 60's they moved to Wilson North Carolina and started the Wilson Dermatology Clinic in 1966. Two years later they welcomed their only child, Wayne Meigs Graham. She married a second time in 1989 to Dr. James Graham, a dermatopathologist. The Doctors Graham moved to Pine Knoll Shores in the mid 90's where they practiced medicine together until he passed away in 2012.

Gloria co-founded the Country Doctor Museum in Bailey NC in 1967. She worked tirelessly to collect a historically significant collection of materials used in the practice of rural physicians. It is considered the oldest museum in the United Stated dedicated to the history of America's rural health care workers like her grandfather and father.

Early in her career she began to take a special interest in cryosurgery and is widely considered one of the pioneers in the field. She lectured on the subject in countries around the world. She was one of the founders of the American College of Cryosurgery and served as vice president of the International Society of Cryosurgery. She has written more than 100 publications and two books on cryosurgery. In addition to serving on the attending faculty of Wake Forest Hospital, she also served on the faculty of the University of North Carolina at

Chapel Hill and Duke University. She has held more than 100 professional appointments and in 1973 was one of a group of women who established the Women's Dermatologic Society. She has served on the Board of Trustee's and Board of Visitors at Wake Forest University and on the Medical Center Board at Wake Forest Hospital.

Dr. Graham received numerous honors and awards, including the Rose Hirschler Award from the Women's Dermatologic Society in 2001 and the Everett C. Fox MD, Memorial Lectureship Award from the American Academy of Dermatology in 2003. In 2007 she was honored with the Distinguished Achievement Award from the Wake Forest School of Medicine. Perhaps one of the greatest honors was in 2015 when she was named the North Carolina Doctor of the Year.

Gloria lived a rich and beautiful life. She deeply loved her family, friends and the thousands of patients she was blessed to care for in Eastern North Carolina. Her greatest joy was her relationship with Jesus Christ that continued to deepen as the years went by. She passed knowing that she would spend eternity with Him and those loved ones who proceeded her.

She is survived by her son Wayne Meigs Graham, his fianc? Michele; grandson, Matthew Coleman Graham and granddaughter, Margaret Elizabeth Graham; stepchildren, James Herbert Graham Jr. and wife Susan, John August Graham and wife Cathy, and Angela Joann Woodworth and husband Bill; step grandchildren Grayson Howell, John Howell, Scott Graham, Laura Felix (Michael), Kendall Guzman (Alfonso), Michael Graham, Amber Giles (Mitchell), Sarah Parker (Tyler), Angela Graham, Deana Rosaia (Danny), and Luiken Woodworth (Danielle); and step great-grandchildren, Lincoln, Lachlan, Mia, Santino, Avelina, Jouquin, Alejandro, Finley, Jonah, James, Lydia, August, Enzo and Adelina.

She was preceded in death by her sister, Mary Elizabeth Flippin; and her parents, Dr. James Meigs Flippin and Ida Mae Flippin.

The family would like to offer a special Thank You to her friend and personal physician, Dr. Mary Katherine Lawrence. The staff at Carteret Health Care, Crystal Bluffs Rehabilitation Hospital and the SECU Crystal Coast Hospice House. Dr. Margaret Merrick, Jennifer Stephenson, her hospice nurse Natalie Kennedy and caregivers Matilda Milburn-Jones, Letricia Harris and Dianna Godette. A special thanks to her church family at All Saints Anglican led by the Reverend David Linka.

In lieu of flowers, gifts may be made in her honor to All Saints Anglican Church 292 McCabe Road, Newport NC 28570 or online at https://www.allsaints.live/give. Condolences and life tributes may be sent to the family at www.noebrooks.net or by mail to Wayne Graham 106 Cypress Drive, PKS NC 28512 or email at [email protected]

Condolences and life tributes may be sent to the family at www.noebrooks.net

Arrangements by Noe-Brooks Funeral Home, Morehead City, NC.
LINKS

The Wilson Times
https://restorationnewsmedia.com/wilsontimes