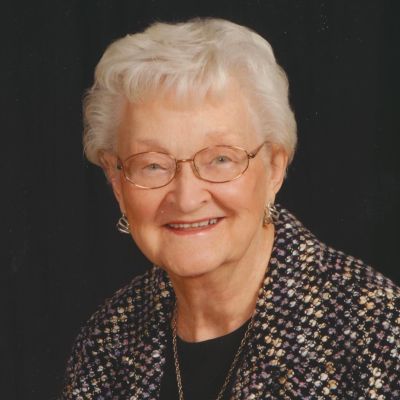 Gladys
Nygard
What do you remember about Gladys? Share your stories and photos here, and invite others to come share their memories.
Gladys Nygard, age 95, of Milaca, formerly of Madison passed away on Tuesday, January 10, 2023 at Milaca, Minnesota.

Funeral services held at 11:00 a.m., Saturday, January 14, 2023 at Faith Lutheran Church, Madison, Minnesota with Rev. Ron Nichols officiating at the service. Special music provided by Linda Anderson and Marilynn Skurdahl.

Honorary casket bearers were "Gladys' grandchildren" Lindsey Bakkum, Seth Nygard, Lesley Skallerud, Katherine Theisen. Active casket bearers were Zach Bakkum, Joe Skallerud, Matt Theisen, Lee Ulstad, Brian Bremseth and Mark Hastad.

Concluding service and burial at Hegre Cemetery, Madison.

Gladys Elsie Nygard was born on July 9, 1927 in Appleton, Minnesota to William and Martha (Loose) Schwartz. She was baptized at Emmanuel Lutheran Church, Shible Township, Appleton. She was confirmed at Trinity Lutheran Church, Appleton, and graduated from Appleton High School in 1945. Later that year she began working at the Leader Department Store in Appleton as secretary/bookkeeper.

Gladys was united in marriage to Glenn Nygard on June 4, 1950 at Trinity Lutheran Church in Appleton. They were active members of Hegre, Borgund, and Faith Lutheran churches of Madison. She spent her later years living in Country Meadows in Milaca and was a member of Trinity Lutheran Church in Milaca.

Music was always important to Gladys, beginning with singing in vocal groups in high school, as organist at Trinity in Appleton and later at Borgund for a total of nearly 20 years, and ringing in the handbell choir at Faith.

Gladys was a member of the Happy-Go-Lucky sewing club for 67 years, a group of friends who hand-stitched quilts in each other's homes. Gladys enjoyed quilting, knitting, crocheting, Hardanger, and raising vegetable and flower gardens.

Gladys and Glenn enjoyed traveling, visiting most of the 50 states, 14 countries and seven of the Caribbean islands. A highlight of their trips was visiting the ancestral home of Glenn's mother near Hegra, Norway. Glenn and Gladys also spent winter months in Mesa, Arizona for over 20 years.

Gladys is survived by her children, James Nygard of Buffalo, Paul (Connie) Nygard of Alexandria, Susan (Timothy) Nystrom of Foreston, Richard Nygard of Blaine, and Wayne Nygard of Lino Lakes; five grandchildren, Lindsey (Zach) Bakkum of Eden Prairie, Seth (Andrea) Nygard of Chandler, AZ, Lesley (Joe) Skallerud of Madison, Andrew (Naomi) Nystrom of Shakopee, and Katherine (Matthew) Theisen of Rosemount; 10 great-grandchildren, Jackson and Liv Bakkum, Addison, Anders and Aiden Nygard, Landon, Miles and Avery Skallerud, Noah Nystrom, Cora Theisen and Benjamin Nystrom.

Gladys was preceded in death by her parents, her husband Glenn, her parents-in-law Peter and Sena Nygard and brothers and sisters-in-law Philip and Harriet Nygard, Magnus and Myra Skurdahl, and Archie and Sylvia Johnson.

Arrangements by the Zahrbock Funeral Home, Madison, Minnesota, website: zahrbockfuneralhome.com.
LINKS


Union-Times
https://www.hometownsource.com/union_times