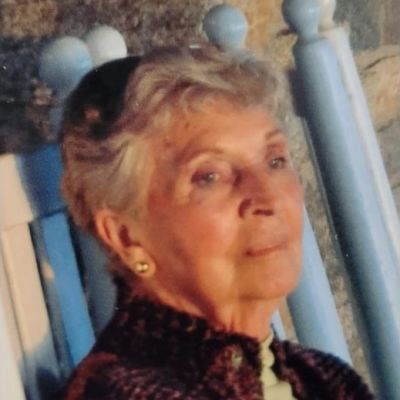 Geraldine
"Jerry" Dayton
Rogers
What do you remember about Geraldine? Share your stories and photos here, and invite others to come share their memories.
Geraldine "Jerry" Dayton Rogers Jerry Rogers, 94, of Blowing Rock NC, died peacefully at Watauga Medical Center in Boone, NC on July 26, 2021, after a short illness surrounded by family and friends who loved her. Jerry was born January 19, 1927, to James & Olga Dayton in Asheville, NC.

She enjoyed a charmed life growing up there graduating from Lee Edwards High School with honors at the age of 15. She moved on to Mars Hill Junior College graduating and entering Furman University where she earned her bachelor's degree in Chemistry. Jerry worked as a chemist in the private sector for the American Enka Company and in Washington DC for the Defense Department. She was an accomplished female research chemist breaking new ground in the field for women in America.

She married Bob Rogers in Asheville and started their life together nearby in Weaverville, where they built a home on Bob's family farm of which they later developed as a subdivision over the ensuing years. During this time, she earned her master's degree from Western Carolina

University ty. Jerry taught public school in Buncombe County until 1964 when Bob was transferred to Charlotte with Southern Bell. They lived happily in Charlotte on Lake Wylie for many years raising their two daughters.

Jerry enjoyed teaching and was a leading educator in the field of chemistry and physics. Shortly after moving to Charlotte, she joined Dr. Bonnie Cone, Dr. Laura French, Dr. E.H. Garinger & others in the continued development of Charlotte College setting it on a course to become the University of North Carolina at Charlotte. She was a faculty member of the newly built Garinger High School in Charlotte; a bold award-winning example of modem architecture and education that was featured in National Geographic Magazine reflecting a new emerging contemporary philosophy in a large high school educational setting.

Jerry was a skilled lady amateur golfer and avid traveler. She and her husband traveled the world playing golf on many storied courses including "The Old Course" at St. Andrews, the oldest golf course in the world. Jerry often told the story of not being allowed to play the course with her husband as women were not allowed to play the course with men. Jerry retired from her teaching career in 1982. After Bob retired some years later, they built their retirement home in the North Carolina Mountain's "High Country."

Jerry was a member of the Blowing Rock Country Club Ladies golf team. She competed throughout the High Country and was a leading member of that group. She was an accomplished Bridge player enjoying the game for many years at her Club. With her keen intellect, Jerry had many interests all of which she could converse on with storied knowledge. She was very sociable, always enjoying a good glass of wine and dinner with friends and family.

She is survived by her two daughters Robin Rogers Hodge & husband Al of Washington, NC. and Pam Rogers Morse & husband Garry of Belvedere, Ill and her faithful companion, Bubba. Also, several grandchildren, great-grandchildren , nieces & nephews who will continue her legacy.

Predeceasing her in death were her parents, husband Bob and brothers Bill & James, Jr.

Jerry was a long-time professional member of the American Chemical Society & North

Carolina Educators Association. She was a former member of the Charlotte Country Club

and the Blowing Rock Country Club.

A graveside service to honor Jerry's life will be held August 2nd at 1:00 pm in Blowing Rock at Woodlawn Cemetery. All who knew her are encouraged to attend to say farewell.

In lieu of flowers, the family has requested those that wish, a bequest be made in Jerry's

memory to Shriners Hospital for Children C/O Oasis Shriners 608 Doug Mayes Place,

Charlotte, NC 28262 or call the Oasis office at 704-549-9600. Also, "The Blind Center"

in Washington, NC at 221 N. Harvey Street Washington, NC 27889.

So, I say to you......" The Music May Have Stopped, But the Melody Forever Will

Linger."

Goodnight sweet Jerry. Sleep Well.

Online condolences may be sent to the Rogers family at www.hamptonfuneralnc.com

Hampton Funeral and Cremation Service is in charge of the arrangements.
LINKS
Hampton Funeral Services Inc
The Asheville Citizen-Times
http://www.citizen-times.com