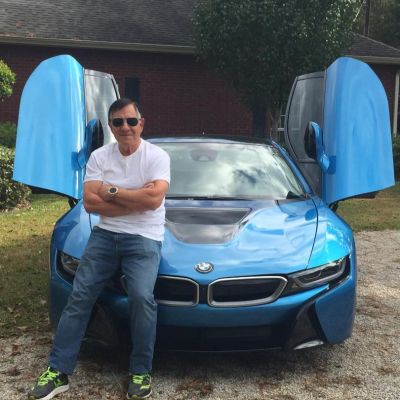 George
Howard
Ebarb
Help us celebrate George! Please share your stories and photos, and invite others who remember George.
George Harold Ebarb, 69, passed away peacefully with his loved ones by his side on Sunday, October 4, 2020, in Houston, Texas.

George, known to many as "Bubba", was born on June 16, 1951, in the small East Texas town of Pineland, to Sadie Mae and George Hobert Ebarb. Following her husband's unexpected passing, Sadie later remarried Ralph Morse, who Bubba always considered a father. The family eventually settled in Marshall, Texas, where Bubba was raised and attended school. He would often accompany his mother, Sadie, to mass at St. Joseph's and remained a devout Catholic throughout his life.

In the summer of 1968, Bubba met the love of his life, Teresa. They were married the following year at just 15 and 16 years old. Bubba later graduated from Marshall High School in 1970 and the two teenagers started a family. Bubba had worked as a laborer at Timsco for several years at that time, but soon began searching for a way to provide a better life for his family. He later entered into the Sonic business at the behest of his brother, Randy, and dedicated himself to learning the business from the ground up. He worked countless hours, spent time away from his family, and took many risks to work his way up from the bottom. Anyone who knew Bubba understood his tireless work ethic and desire to succeed.

In 1977, Bubba took a chance, packed up his family, and moved everything they had to Jasper, Texas, to open up his very own Sonic Drive-In restaurant. He began to finally see the fruits of his labor and planted his roots in Jasper where he lived for the remainder of his life.

He regularly attended St. Michael's Catholic Church, rarely missing a mass, and developed a love for traveling in his later years. He enjoyed cars, spending time with family, and cycling in his spare time. He rode the MS 150 from Katy to Austin three years in a row and greatly enjoyed staying physically active. An advocate for service, Bubba worked in the prison ministry and was a pillar in the Alcoholics Anonymous community. He was a dear and giving friend to all who knew him and never met a stranger. Bubba was a loving and devoted husband and father, always going above and beyond for his loved ones and friends. He had an infectious laugh and a zest for long-winded storytelling. His life and legacy are true testaments of his love for his family, his determination, and his unwavering faith in God. For this he will always be remembered.

Survivors include his wife of 52 years, Teresa, of Jasper; daugher, Shannon Beathard and husband Wayne of Beaumont; son, George Randall Ebarb of Lumberton; son, Jason Ebarb and wife Rebecca of Beaumont. Grandchildren, Clara Kirk and husband Dennis of Beaumont; Hayley Heintschel and husband David of Beaumont; George Trent Ebarb, Jackie Ebarb, and Tanner Ebarb of Lumberton; Emma Ebarb and Madison Ebarb of Beaumont. Great-grandchild, Everett Kirk of Beaumont. Brothers, Randy Morse and wife Lou Anne of Kilgore; Robbie Morse of Garland. Sisters, Karen Butler and husband Todd of

Marshall; Carolyn Govea and husband Mike of Fort Worth; Judy Smith of Marshall; Sharon Sanders of Marshall. He is also survived by numerous nieces, nephews & cousins.

He is preceded in death by his parents, Sadie Morse and George Hobert Ebarb, step-father Ralph Morse, and brothers Kenneth Ebarb and Jerry Lee Morris.

The family would like to send a sincere and heartfelt thank you to the doctors, nurses and medical staff at Houston Methodist Hospital for their care of Bubba in his final months.

Visitation for Mr. Ebarb will be held on Tuesday, October 6, 2020, from 5:00PM to 7:00PM at Stringer Griffin Funeral Home in Jasper, Texas. A Rosary will be recited at 7:00PM immediately following the visitation. The funeral service will be held on Wednesday, October 7, 2020, at 1:00PM, with his interment to follow at Memorial Park Cemetery, in Jasper.

The funeral service will be streamed online on the St Michael's website: www.stmichaelsjasper.com

In lieu of flowers, the family requests that donations be made to Be The Match, which helps with medical costs for marrow transplant recipients and funds research. Donations can be made at the following website:

https://www.bethematchfoundation.org/site/Donation2?17497.donation=form1&df_id=17497&mfc_pref=T.

In an effort to protect each other from COVID-19 infection we ask that you comply with CDC Social Distancing Guidelines as well as Governor Greg Abbott's request that a face covering be utilized before entering this facility. Funerals are currently a public event being held during the national response to the COVID-19 pandemic. When you attend any public event you are acknowledging risk of exposure. For guidelines go to CDC.gov.
LINKS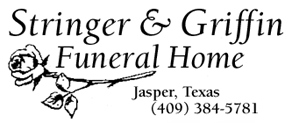 Stringer Griffin Jasper office

Marshall News Messenger
https://www.marshallnewsmessenger.com