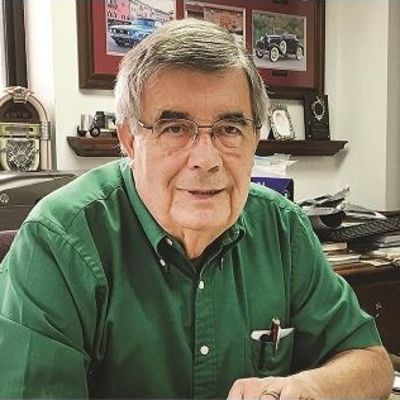 Gary Lee
Hawkins
Join us in celebrating Gary Lee—please share your stories and photos, and help spread the word about this page!
Calhoun City---Gary Lee Hawkins, 78, passed away at North Mississippi Medical Center in Tupelo on Monday, July 6, 2020. Born June 12, 1942, in Logan, W.VA, he was the son of the late Howard Lee Hawkins and the late Essiebelle Katherine Kuhn Hawkins. Gary was a 1960 graduate of Calhoun City High School. He furthered his education at Mississippi State University, earning a Bachelor's Degree in Accounting in 1964. After college, Gary joined the Air National Guard, where he served both as active duty and reserve, rising to the rank of Staff Sergeant.

He managed Blount Motor Company, which was formerly Hawkins Ford Motor Company. Automobiles were the family business when Gary joined Hawkins Motor Company in 1966. He loved the business, but really loved the "people." He was a true "people person" who never met a stranger, and if he did, they wouldn't be a stranger anymore after four hours of talking and storytelling. To promote the family business, he starred in a commercial where he traded a new vehicle for a log wagon. At the end of the commercial, he rode the log wagon into town. "Crazy Gary Lee Hawkins" then rode this commercial all the way to national recognition on the "Real People" television show in California.

He was unselfish with his time and energy, holding every office in both Rotary Club and the Jaycees. Also, he spent 6 years promoting the economic development of Calhoun County, and another 6 years on the Mississippi State Park Commission. He was very active in the Methodist Church, serving on the Pastor Parish Committee and the Administrative Board, and was also twice president of the Men's Club and church treasurer for 5 years.

He adored his Phi Kappa Tau Fraternity Alpha Chi Chapter Fraternity family. Acting as the leader he has always been, he called, emailed, and tracked down Phi Tau Alumni to create a directory that he shared with all of the Alumni. With that directory, he organized 3 amazing Phi Tau reunions, with attendance improving with each event.

For every town he went through, he had a story; and by the way, he also knew the best places to eat.

His passion was Mississippi State sports, especially football. If Dak Prescott ever ran for Governor, he would have Gary's vote, although some people thought that Gary himself would make a fine governor. Above all else, his family meant the most to him, especially his grandchildren. They are saddened with his sudden passing, but they find some comfort in knowing he is in the presence of his Lord and Savior, Jesus Christ. He will be missed dearly by all who knew him.

Pryor Funeral Home is honored to serve the Hawkins family.

Visitation will be held on Saturday, July 11, 2020, from 12:00 pm until 1:45 pm at Pryor Funeral Home. A Graveside Service celebrating his life will follow visitation at Pinecrest Memorial Gardens at approximately 2:15pm. Bro. Dwight Brown will be officiating with interment to follow at Pinecrest.

Pallbearers will be Joe Carnaggio, Mike Goralczyk, Jimmy Ball, Paul Moore, Jr, Johnny Dean, and Harrison Hawkins.

Honorary Pallbearers will be all of his Grandchildren, the members of Rotary Club of Calhoun City, and Phi Kappa Tau Fraternity, Alpha Chi Chapter.

He leaves behind his wife, Evelyn Hawkins; sons, Gary Christopher "Chris" Hawkins and his wife Aimee of Tupelo; Chadwick "Chad" Reid Hawkins and his wife Holly of Eupora; and Arnie Brown of Calhoun City; sisters, Beth Hawkins Vail (Charles) of Senatobia; and Sandra Hawkins Mitchell (Eddie) of Water Valley; and grandchildren, Harrison Davis Hawkins, Riley Grace Hawkins, Regan Izabel Hawkins, Birdie Elisabeth Hawkins, Austin Brown, and Ryan Brown.

He was preceded in death by his parents, Howard and Essiebelle Hawkins, and his beloved cats, Annabelle and Alex.

In lieu of flowers, donations may be made to the Calhoun City Rotary Club.

Expressions of sympathy may be left for the family at pryorfuneralhome.com.
LINKS

Daily Journal
http://www.djournal.com