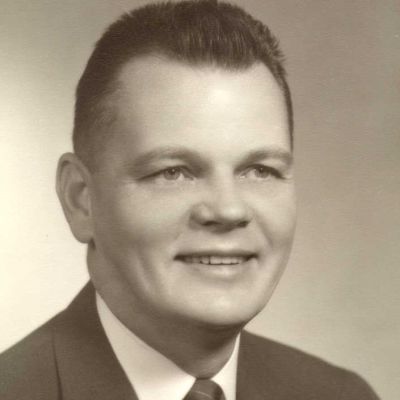 Frederick
Walton
Seaver
Fred Walton Seaver (1911-1983) was a son, grandson, husband, father, coach, insurance agent and grandfather.
Frederick Walton Seaver was the fifth child of Frederick Walton and Alma Bessie) Seaver, and was born in Fitchburg, Massachusetts.

He grew up in Leominster, Massachusetts, attended Leominster High School, and graduated from Worcester Academy in Worcester, Massachusetts. He attended Dartmouth College in Hanover, New Hampshire on a football scholarship, but was injured playing football and did not complete college. During the 1930s, he had jobs in and near Leominster.

In December 1940, he abruptly left Massachusetts and headed for California, arriving at the home of Marshall and Dorothy (Taylor) Chamberlain at 4601 Terrace Drive in the Kensington area of San Diego. Dorothy's mother, Emily (Richmond) Taylor, was Fred's aunt, his mother's sister.

The marriage of Frederick W. Seaver and Betty V. Carringer was announced in the Fitchburg (Mass.) Sentinel newspaper dated 11 July 1942. The article says:

"Seaver-Carringer

"LEOMINSTER, July 11 -- Miss Betty Virginia Carringer, daughter of Mr. and Mrs. Lyle L. Carringer of 2130 Fern street, San Diego, Cal., will be married this afternoon in St. Luke's Episcopal Church, San Diego, to Frederick W. Seaver, Jr. also of San Diego.

"Mr. Seaver is a former resident of Leominster and is the son of Mrs. Bessie A. Seaver of 90 Main street and the late Frederick W. Seaver, Sr. Mrs. Seaver and her daughter, Miss Geraldine Seaver, are attending the wedding.

"Mr. Seaver was graduated from Worcester academy and attended Dartmouth college. He is engaged in war work in San Diego. The bride was graduated from the State Teachers college in San Diego and is a member of the faculty of the San Diego high school. Mr. and Mrs. Seaver will live at Point Loma, San Diego."

Before and after his marriage, Fred was employed at Rohr Corporation in Chula Vista in the defense industry. Fred and Betty resided at 577 Twin Oaks Avenue in Chula Vista after their marriage and until Fred enlisted in the United States Navy.

The 28 October 1943 issue of the San Diego Union newspaper (page 12) announced the birth of their son, Randall (accessed on GenealogyBank):

"IT'S A BOY

"Frederick Seaver and Mrs. Seaver (Betty Carringer) announce the birth of a son, Randall Jeffrey, Saturday at Paradise Valley Sanitarium. Grandparents are Mr. and Mrs. Lyle Carringer of San Diego and Mrs. F.W. Seaver of Northampton, Mass."

In August 1944, Fred enlisted in the United States Navy and served as Mailman 2nd Class on the U.S.S. Halford, a destroyer in the Gulf of Alaska. While he was in the Navy, Betty moved back to her parent's home on Fern Street in San Diego, and her mother helped with Randy, their first son. When Fred left the Navy, the family moved into the bottom floor flat at 2114 Fern Street. He was discharged from the Navy in February 1946.

Fred soon got a job with Prudential Insurance as an agent, and he worked there for about twenty-five years. After their son Stanley was born in 1946, the family moved to the second story flat at 2119 30th Street in 1947, which the boys remember as their home. Betty's parents lived downstairs at 2115 30th Street, until they moved to their new home on Point Loma in 1951. The home at 2119 30th was relatively small - living room, dining room, kitchen, bathroom, back bedroom, master bedroom, and sun room. There were windows all around, with a view towards downtown to the southwest and to the mountains to the northeast. The sun room housed Betty's art activities until Scott was born in 1955, when Randy and Stan were moved there and the back bedroom became the nursery.

The boys played in the neighborhood, at Grape Street Park, in the canyons of Balboa Park, and at the Brooklyn Heights Presbyterian Church playground midway between home and school. They loved sports, playing football, basketball and baseball at school, in the backyard, and on the neighborhood streets. During football season, 30th Street and Grape Street Park had many touch and flag football games. Basketball was played on the brick backyard or at the playground. The big family sport was ping-pong, on a table set up on the brick backyard. During baseball season, the bricks would turn into the world's greatest Whiffle ball court.

Randy and Stan rode their bicycles everywhere from Balboa Park to East San Diego and Mission Hills, exploring the neighborhoods, going to the museums and the Zoo in Balboa Park, or to the swimming pool at Morley Field. They got a newspaper route for the Independent newspaper, which was published twice a week, to get some spending money. Both boys received Flexible Flyer's for Christmas in 1954, and rode them all over the city and used them on their paper route.

Stan started Little League at Morley Field in Balboa Park in 1957, with Fred as a coach. Fred managed Stan's teams in Little League (age 8-12), Pony League (age 13-14) and Colt League (age 15-16) until 1964. He then managed Scott's teams in Little League, Pony League and Colt League until 1972. Randy coached some of Scott's teams, then managed in Little League for several years. Stan was a catcher and Scott was an infielder and pitcher. They both played high school baseball at San Diego High School, and Scott pitched at Mesa Community College. The San Diego Padres were always in their hearts - first as a minor league team and then as a major league team starting in 1969.

Betty was the supportive baseball mother, full of encouragement for her husband and sons. The different schedules for each member of the family enabled Betty to have free time for her own hobbies and interests. She enjoyed sewing, pottery, ceramics and metal enameling.

The San Diego Chargers came to San Diego in 1961. Randy, Stan and their friends attended many games at Balboa Stadium in the early years, reveling in the Charger's accomplishments, including an AFL championship in 1963. Randy often took Scott to the games. During the 1963 pre-season, Randy got a summer job with the Chargers at their training camp at Rough Acres Ranch near Boulevard in the East County. As Scott grew older, he became the wide receiver in the family street games.

Fred was an accomplished bowler, and played in some of San Diego's highest average leagues for many years. The bowling highlight each week was not Friday night when he went bowling, but Saturday morning when the family awoke to doughnuts and eclairs which Fred brought home from the bakery on Friday nights. Bowling provided an opportunity for many family vacations within California. Fred's teams entered the California State Bowling tournaments in Fresno, Sacramento, San Francisco, Los Angeles, and several other places in the late 1950's and early 1960's. The most memorable non-bowling vacation was a two-week stay at Bass Lake on the southern edge of Yosemite National Park. The family rented a cabin on the lake, with boating, swimming, hiking, and fishing in the summer of 1954. One year, Fred and Betty took a trip to Victoria, British Columbia without the boys.

Fred retired from Prudential Insurance in 1971. He continued to do handyman work around the house, work in the garden and in his garage workshop, while taking care of the six rental flats on the block.

After her parents died in 1976-1977, Betty and Fred moved to the Point Loma home at 825 Harbor View Place, overlooking San Diego Bay. Betty inherited the 30th Street properties, and sold them to provide a retirement income. Fred enjoyed working in the garden, working around the house, and watching sports on television in the Point Loma home. One newsworthy event was a cement truck that lost its brakes coming down Lucinda Street and crashed into the garage of the house, injuring the driver but not hurting Fred and Betty.

In the summer of 1982, Fred was diagnosed with prostate cancer, had several complications, and eventually died of a heart attack on 26 May 1983 while being treated in the hospital. He is buried at Fort Rosecrans National Cemetery on Point Loma, on a hill overlooking the Pacific Ocean and the San Diego he had loved.