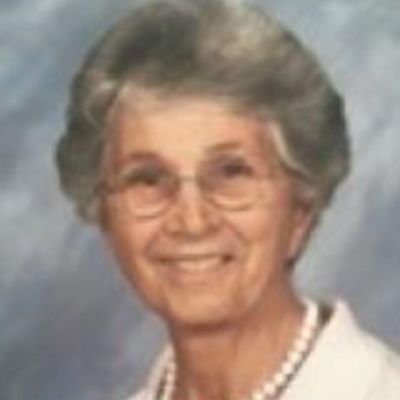 Freda
M
Whittemore
Did you know Freda? Please share your stories and photos, and help spread the word about this page!
LACONIA ---- Our mother, Freda Margaret (Heffer) Whittemore, was born August 13, 1916, in Partridge Green, Sussex, England. She died peacefully, surrounded by her children, on Wednesday, August 24, 2022, at the age of 106. Mom personified a life well lived and loved for all those years. She was predeceased by her husband of 53 years, David T. Whittemore, in March of 2000.

Mom received her nurses training in England and passed her S.R.N. exam in 1938. She went on to earn her R.F.N. (Registered Fever Nurses) badge. During WW II, she met her future husband at a Red Cross dance in Huntington, England, and then came to America in 1946 where they were married at the Episcopal Church in Franklin, New Hampshire. Mom became a United States citizen in March, 1958. She had a fond memory of the women around our neighborhood on Jefferson Street in Lakeport, marching along the street hitting their pots and pans with spoons and singing, "She's a Yankee Doodle Dandy".

Our mother was an active member in the United Baptist Church (U.B.C.) of Lakeport, New Hampshire, for many years. She served on several boards and committees, and taught in the Sunday School at the church. Mom was a Cub Scout den mother and Brownie leader. She was a member of the Hannah Frances Rebekah Lodge #41. She was a very talented knitter, and it was a labor of love to knit keepsakes for her grandchildren and great-grandchildren. Mom took great joy in joining with her friends at the Monday morning knitting group at the U.B.C., doing volunteer work for her community by making Red Cross bandages and knitting blanket squares for babies.

Mom loved camping at her beloved Hermit Island, and continued to vacation with her children and families in her later years at or near that location. She spent many hours taking care of her flower gardens, canning Dad's vegetables, and making jams and pickles. Mom and Dad spent their retirement years traveling numerous times to England to visit her relatives. Their adventures included trips to Europe, Alaska, Hawaii, Bermuda, and a cross-country tour through the United States in their little hard-top trailer.

The family extends a heartfelt thank-you to Mom's wonderful friends, Helen Boudreau, and in fond remembrance, Olive Haddock. Helen and Olive would visit Mom in her later years, taking her for car rides to get ice cream, and sharing a cup of tea in the backyard during the warmer months or by the wood stove in the winter. They also kept up their tradition of Sunday visits with Mom while she was living at Taylor Home. She looked forward to their visits and fun excursions. We thank Mom's neighbors who lived in the Jefferson Street neighborhood and would often stop by and talk with her, looking in on her from time to time. Many thanks to Marge Drzewiecki and Betty Goss for visiting with Mom and sharing conversation, often accompanied by a treat. To our beloved cousins in the USA, England, and South Africa: we thank you for your visits, letters, cards, and kindness.

A very special thank-you is due to all the wonderful people who work throughout the Taylor Community for their care and companionship with our Mom, especially the nursing staff at Taylor Home and Ledgeview. There are truly no words that accurately capture the degree of compassionate support they consistently offered our mother throughout her final years. In addition, whether it was tea parties with Rita Krupa that eventually involved many residents at Ledgeview, or Tuesday afternoon crossword puzzles with Hank Offinger, there were always special people to buoy Mom's spirits, even through a worldwide pandemic. For the people from Laconia Hospice: thank you for your support during Mom's final days. She was blessed to have so many people who visited, called, and cared for her. We thank you all.

Our mother loved adventure, travel, reading, poetry, learning new things, and listening to all sides of an issue. Above all else, she was infinitely kind, full of good humor, humble, and taught us the Golden Rule by the way she lived her life. Family was the cornerstone of her life. Nothing pleased her more than to hear from or spend time with her children, grandchildren or great-grandchildren. We celebrate her life and the legacy she has left to each of us.

Freda is survived by her four children and their spouses: Peter and Suzanne Whittemore, Judy and Bob Camirand, Mark and Vicki Whittemore, and George and Sandy Whittemore. She has eight grandchildren: Melissa (Jeffrey) Saari, Jason (Karen) Whittemore, Meghan (Robin) Seidman, Kaitlin (Neal) Santosuosso, Tricia (Emilio) DiSanluciano, Stacy (Christopher) Christensen, Jeffrey (Mary) Whittemore, and Sarah (Matthew) Honan. Freda was blessed with seventeen great-grandchildren. Freda also leaves her beloved brother Patrick in England, as well as many nieces and nephews in England, the United States, and South Africa. She was predeceased by two brothers and one sister.

A celebration of Freda's life will take place at a location, time, and date to be determined.

In lieu of flowers, donations may be made to either of the following: Lakes Region Scholarship Fund, to be used for a nursing student, P.O. Box 7312, Gilford, NH, 03247 or Neighbors in Need, 14 Country Club Road, Gilford, NH 03249.

Wilkinson-Beane-Simoneau-Paquette Funeral Home & Cremation Services and 603Cremations.com, 164 Pleasant Street, Laconia, NH, is assisting the family with arrangements. For more information and to view an online memorial, please visit www.wilkinsonbeane.com.
LINKS
Wilkinson-Beane-Simoneau-Paquette
Worcester Telegram & Gazette
http://www.telegram.com