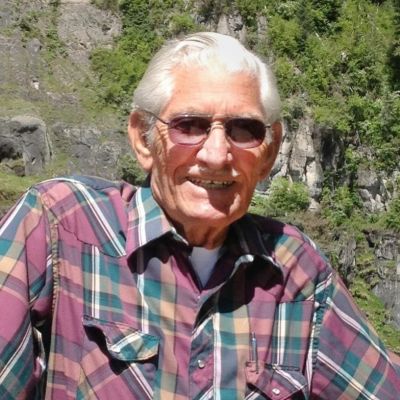 Fred
Henry
Wuthrick
Join us in celebrating Fred—please share your stories and photos, and help spread the word about this page!
Fred Henry Wuthrick, 92, of Idaho Falls, passed away June 3, 2021, at Eastern Idaho Regional Medical Center.

Fred was born February 18, 1929, in Lander, WY, to Fredrick Henri Wuthrick and Ella Whitaker Wuthrick. He grew up and attended schools in Fort Washakie and graduated from Lander High School.

He lived in various places and met the love of his life, Jessie Godber in Wyoming. They were married on June 24, 1947. They moved to Bellingham, Washington in the 1950's, where they lived for over 40 years. Fred was a hard worker and he worked in the produce section of Safeway and at Ace Electronics in Bellingham, WA. In 1992, Fred retired and they moved to Pinedale, Wyoming. Jessie passed away in 2005, and Fred moved to Rigby, Idaho, shortly thereafter. He married Amelia Ann Pulley in 2006, and she passed away in 2013.

He loved flying airplanes, arrowhead hunting, spending time with family and telling corny jokes. He lived a long and healthy life.

Fred is survived by his granddaughter, Jenny Modaffari of Bellingham, WA; grandson, Thomas Fred (April) Lightner of Mount Vernon, WA; great granddaughter, Courtney Lightner; niece, Janice (Brian) Hillyard of Rigby, ID; nephew, William Fred (Tina) Wuthrick of Idaho Falls, ID; niece, Jody (Brad) Watson of Rigby, ID; and numerous nieces and nephews across the United States.

He was preceded in death by his parents, Fredrick and Ella Wuthrick; daughter-in-law, Judi P. Morgan; brothers, William G. Wuthrick and John Wuthrick; sisters, Erna Prestige and Mayna Pope; wife, Jessie Wuthrick; wife, Amelia Ann Wuthrick; and stepson, Thomas Richard Lightner.

Services will be held 2 p.m. on Monday, June 7, 2021 at Wood Funeral Home, 273 N. Ridge Avenue in Idaho Falls. The family will visit with friends from 1:00 - 1:45 p.m. prior to the services.

Condolences may be sent to the family online at www.woodfuneralhome.com.
LINKS

The Bellingham Herald
http://www.bellinghamherald.com