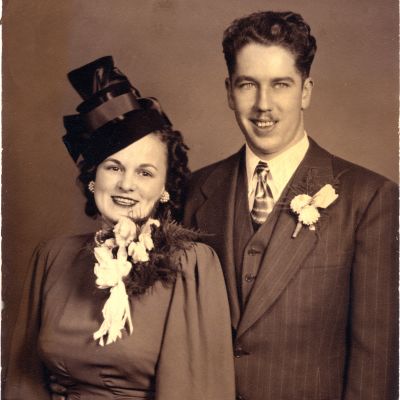 Francis E (Buddy)
Stevens
Bud was a beloved son, brother, father, grandfather and uncle. He had a challenging and successful life for 91 years. We remember him especially for his rascally sense of humor, stalwart resolve, and dedicated love for Jo and all his family.
Francis E Stevens. (Buddy) was the pride of his parents and the sole surviving male descendant of his great grandfather, Andrew Stevens. He was born in his grandfather's house on Tannery Turn in Athens, Pa on Flag Day, 14 June 1921. As a child, Buddy was a kind, good-looking, good-natured and all boy. He would jump off the garage roof into snowdrifts although admonished not to, and he was famous for liberating any fudge, candy or cookies that his 3 sisters had hidden away. Nonetheless his sisters were all very fond of him for his kindness, otherwise. In the 2nd grade his family moved from Athens to Vestal, NY and then to Buffalo. He graduated from PS #43 and was valedictorian at Burgard High School studying automotive mechanics. As he matured, he became focused and ambitious and earned the very top model Schwinn bicycle by picking beans over the summer at a Brant, NY tenant farm. After high school he worked up to manager for Beck's Snowy soap company in Buffalo, and then at Sears and Roebuck stores, taking a an automotive manager job with them in Washington DC in 1941.

In 1942 the DC draft board required him to register for WW II. He decided to join the Army Air Corps and became a sargeant at the head of his class in gunnery school. Bud was a turret gunner and engineer aboard the Flying Fortress plane, Daisy June when he went into action. He was flying from Britain making bombing runs against the V-Rocket and U-Boat bases on the North Sea that were attacking London and British ships. He earned a purple heart and an air medal in 1943, after being wounded in action by German fighter planes. Within a month of returning to the war, his plane was shot down 27 Sept 1943 over Emden Germany near the Dutch border. Five of the fellow airmen on his plane were killed in front of him before he abandoned ship. He parachuted into enemy territory and spent 1½ years as a prisoner of war in the famous Austrian prison camp, Stalag 17 near Krems. When he was liberated on 3 May 1945 he weighed less than 120 lbs.

He returned home to the relief and joy of his family and devoted girlfriend, Jo. They married after just 6 months on 10 Nov 1945. A year later, they had a daughter, Janis, their only child, ending the Stevens male descendants after 4 generations. Bud's post-war trauma eased with time and he enjoyed fishing, beer, bowling, growing Bigboy tomatoes and socializing with family. He always had a boat on Lake Erie (Sunset Bay or the Erie basin) and a garden in the yard. He and Jo had a life-long cherished love until she passed away in 2000 at 80. He lived on for another 12 years to 91. Their ashes were co-mingled and they were mourned by all the surviving kin.