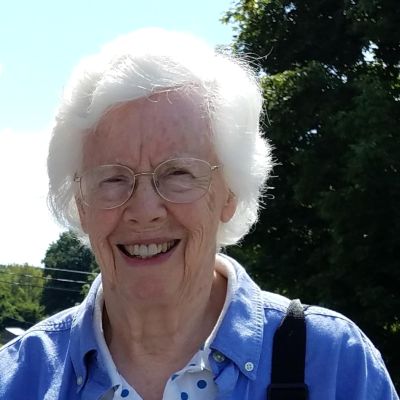 Frances
Nicholson
Beer
Join us in celebrating Frances—please share your stories and photos, and help spread the word about this page!
Frances Nicholson Beer, 90, died on March 25th, 2021, in Kennett Square, PA, of a brief illness.

Fran attended Media (PA) Friends School, Westtown School, and Earlham College, where she met her husband, John. They married in August 1951, living in six places during their early years: Illinois, Frankfurt and Koln in Germany, Indiana, Illinois again, and Oklahoma. In 1961, they moved their 3 small children back east, settling in Newark, Delaware for 42 years, then retired to an active life in the Kendal-at-Longwood community.

Fran and John devoted much loving attention to raising their children, and to nurturing close relationships with their parents, their siblings' families, their grandchildren, and extended circles of cousins. Their other enduring community and spiritual home has been Newark Friends Meeting (Quakers), which they helped get started in the early 1960s.

Fran was sensible, considerate, and organized in all she did. She ran a comfortable, orderly household where everyone did their part. She helped implement practical systems for most groups she participated in, including two larger Quaker organizations, Friends General Conference and Philadelphia Yearly Meeting.

Fran was also active in the League of Women Voters, advocating for public kindergarten, open space, freedom of information and lobbying disclosure issues. She concentrated on election reform, helping to revamp both Delaware and Newark election procedures and laws, serving on the Newark Election Board, and working the polls at West Park School for years. She was first to propose changing Newark's mayoral term to 3 years.

Fran was a reliable anchor in the alto section of community choruses, especially the University of Delaware's Schola Cantorum. She provided decade-long leadership as chair of the committee which published Worship in Song: A Friends Hymnal.

Fran and John shared a love for history, museums, and classical concerts, enjoying world-wide travels and several stints living abroad. A strong daily swimmer till the end, Fran was also a life-long Phillies fan. She relaxed by doing puzzles, and by reading biographies and novels for her long-running local women's book club.

Fran was preceded in death by her parents, S. Francis and Evelyn Nicholson, brother James "Tim", and young daughter Carolyn. She is survived by John Beer, her husband of 69 years, whose care was her faithful focus, especially in this last pandemic year. Also surviving are sister Joan Nicholson; Fran's children--Jennifer, Sandra, Michael (Latanja), and Matthew (Elizabeth); and her five grandchildren--Carolyn, Seth, Avery, Kian, and Skye.

Donations in Fran's memory may be given to the organizations she was involved with, or to a non-profit of your choice.

A Memorial Meeting will be held online, Saturday afternoon, April 24. Please contact [email protected] if you wish to attend.
LINKS

The Newark Post
https://www.newarkpostonline.com