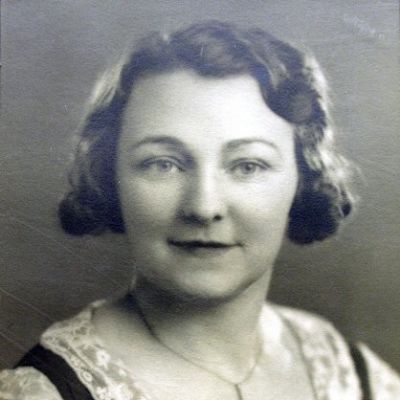 Evelyn
Maud
Thompson
Join us in celebrating Evelyn—please share your stories and photos, and help spread the word about this page!
Born in Calais, Maine on Valentines Day 1902, Evelyn Maud Thompson was the first surviving child of Herman Harold Thompson and Maud McKay. She was descended from the founding families of St. Stephen, New Brunswick on her paternal side. Her mother's ancestors were Scottish Highlanders and disbanded soldiers of the 42nd Highland Regiment who settled in Nashwaak, New Brunswick after the American Revolutionary War.

Her early childhood was spent in St. Stephen, New Brunswick where her father and uncle (Willard Thompson) worked for the Ganong Chocolatier Co. By 1911 she had three siblings - Lavonne, Odell and Harold. At the time the census was taken that year, her father was not present in the home. In that year his brother Willard was working as a chocolatier in Salem, Mass - but Herman's whereabouts in 1911 have not been established.

By 1916 the family appears to have reunited in Quebec City, where Herman had opened a candy store in the family's residence in the Saint-Jean-Baptiste District. By 1921 Evelyn had three more brothers - Stanley, George and Gailen. By the time her sister Jacqueline was born in 1925, Evelyn had left home and moved to Toronto.

According to her own account, Evelyn arrived in Toronto by train on her 21st birthday. Her cousin Phyllis had recently married into the Cork family - one of the founding families of the Loblaw's grocery chain. Evelyn became employed in one of the first Loblaw's stores in Toronto - located on Danforth Avenue. While working for Loblaws she met and married Ken McKenzie in 1929. They had two children, Blair and Sandra.