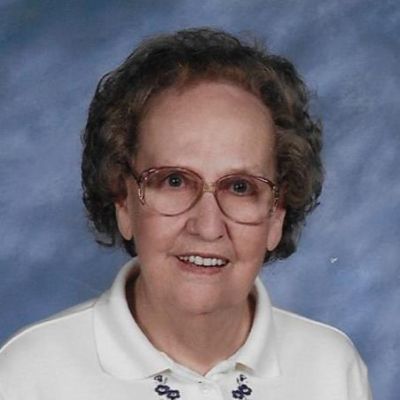 Evelyn
M.
Kiefer
Join us in celebrating Evelyn—please share your stories and photos, and help spread the word about this page!
Evelyn Marie Wolter Kiefer left this life to go home on January 16, 2022. She began this life on September 25, 1926 in the St. Maurice Community in Decatur County Indiana. The Wolter family lived on 300 North County Road, near the Lecher machine shop corner. Evelyn's father (Frank) suddenly died, when she was only 13 years old. Her mom, Mathilda and nine children were forced to work hard in order to get by. She was the daughter of Frank and Mathilda (Gauck) Wolter. Evelyn attended The St. Maurice Catholic School. Evelyn graduated from Clarksburg High School in 1944.

During WWII, Evelyn helped the war effort, by making military uniforms, while employed at The Greensburg Shirt Factory. It was located on the corner of Main and East Street (at the old Interurban building). She ate lunch at Watson's Restaurant on Franklin and Main. She, later, went to work as a waitress there. This was where she met her future husband, who just returned from service in The South Pacific. Evelyn Wolter married Warren Oliver on August 23rd, 1947. They settled in Jackson Township on a farm south of Waynesburg in Decatur County. Her children attended Jackson School. Twins were delivered in 1961 at the new Bartholomew Hospital Mother-Infant Care Center. Evelyn enjoyed hosting 'Tupperware" parties at their farm home. Evelyn, also, managed to work at The Ford plant in North Vernon. She worked at ITT Ford Plant in North Vernon for 20 years. Evelyn and her family moved to Westport in 1961. While in Westport the family attended St. Dennis Catholic Church. Later, in 1970, Evelyn's family moved back out on the farm. They resided near the population center marker on county road 350 west. Evelyn enjoyed playing puzzles, sewing, embroidering quilts and making homemade Fudge. She really enjoyed the customers and years that she spent, working for Avon (25 years). They moved to Westport and raised six children, who still survive; Ron (Bev) Oliver, Diane (Lester) Powers, Kenny Oliver, and Danny Oliver of Westport; Nancy (Chris) Tyler of North Vernon and Janet (Bernie) Hagerty of Greensburg. Also surviving, are Evelyn's brother, Louis (Amelia) Wolter; sister-in-law, Marlene (Ben) Wolter and Rosie (Mart) Wolter. Evelyn enjoyed gathering with her extended family at Wolter Family Reunions. They were held at the St. Maurice Parish hall.

Evelyn was preceded in death by husband; Warren K Oliver (Dec9, 2010), brothers; Carl Wolter, Bernard (Marlene) Wolter, Al (Jean) Wolter, Norbert (Doris) Wolter, Martin (Rosie) Wolter, Sisters; Dorothy (Hank) Bicknell and Thelma (Leroy) Grossman; son-in-law's, Chris Tyler and Lester Powers; great grandson Josh Reed. Grandchildren include: John Oliver, Julia (Aaron) Goen, Penny Jones, Patty Porter, Troy (Kim) Porter, Elizabeth (Dave) Tuchmann Hagerty, Mary Rob) Hagerty Bruns, Mark Hagerty, Paul Hagerty and Matt Hagerty, Danny (Tammy) Hilligoss,Rachel (Prentice) Moore, Erica Oliver, Timothy Sanabria, and Amanda (Darin) Wyne.Evelyn enjoyed her great grandchildren; Brittany (Tony) Dilk, Cassi (Jeremiah) Ross , Josh (Hope) Reed, Robin (Charles) Williams , Zach (Alex) Hankins , Christopher Porter, Kendra Porter, Sara Robbins, Hannah Bruns, Robby Bruns,Samuel Tuchmann, Liam Tuchmann. Great great grandchildren surviving are; Brynn Dilk, Emile Dilk, Jenson Dilk,Parker Ross, Autumn Reed, Zoie Reed, Oliver Williams, Jasper Williams, and Addelynn Williams.

A visitation for family and friends will be held on Wednesday, January 19, 2022, from 4:00 pm to 7:00 pm at Porter-Oliger-Pearson Funeral Home in Greensburg. A Mass of Christian Burial will take place on Thursday, January 20, 2022 at 11:00am at St. Maurice Catholic Church, 1963 North St. John Street, Greensburg, IN 47240, with Father Bill Ehalt officiating. Burial will take place afterwards at St. Maurice Catholic Cemetery.

In lieu of flowers, memorial contributions can be made to St. Maurice Catholic Church. To leave online condolences, please visit www.popfuneralhome.com.
LINKS

Porter-Oliger-Pearson Funeral Home

The Republic
http://www.therepublic.com