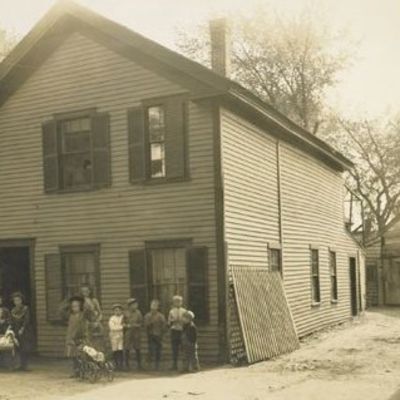 Lewiston Police Matron,
Etta
Y
Mitchell
Etta Y Mitchell was the city of Lewiston's Police Matron for nine years, 1898 to 1907.
Etta Mitchell's Obituary in the

Lewiston Evening Journal, Lewiston, Maine, USA

Etta Y. (Phenix) Mitchell

June 3, 1930.

"Mrs. Etta Y. Mitchell, for years a resident of Lewiston, and the first police matron after that office was created by the city government, died early Tuesday at the home of her son, Alvin W. Mitchell, 30 Montello Street, Lewiston."

"Mrs. Mitchell was born in Ireland, 84 years ago (1846), coming to this country when she was about 16 years of age (1866). Her maiden name was Etta Phynex. The family lived in Gardiner for some time, and she was married in Augusta to Amansel Mitchell. After they came to Lewiston to reside, she was employed for some years as a typesetter in the old Lewiston Journal Printshop."

"One of Mrs. Mitchell's outstanding characteristics was sympathy with the needy and unfortunate, and it was this that led her into charitable work. Organized social service was not unknown by any means at that time, but it was less common than now, but even if it had been otherwise, Mrs. Mitchell's desire was to help the person who needed it most."

"To that end she worked with the individual, quietly and unobtrusively, rather than thru organizations. She served as Lewiston's police matron for nine years, in which she came in contact with every degree of abject poverty which a city with few philanthropic societies is likely to present. Destitute children especially found a warm place in her heart. No refuge was afforded them then, other than the city farm. So she began to search for homes where the little unfortunates could know something of home life. She has found homes for scores of homeless children, some of whom today owe all that life means to them, to Mrs. Mitchell's kindly interest in their welfare."

She founded the Lewiston and Auburn Children's Home in order that unfortunate little folks might be properly housed, and she was its matron for years."

"Tho the work of this home was done in a modest way for years, it well proved its worth. What it has meant to the boys and girls who have known its shelter, none but themselves will ever know."

"Mrs. Mitchell cooperated with Mrs. W H Newell in establishing a social settlement in Lewiston. This movement was not of long duration, as other organizations took up the same type of work, but the need was brought home to Mrs. Mitchell, thru her work as police matron."

"Besides her son, Mrs. Mitchell is survived by a daughter, Mrs. Ruby Rancourt of Brunswick; eight grand-children, and one great grandchild."

"She was a member of Calvary Methodist church, and of the Odd Ladies."