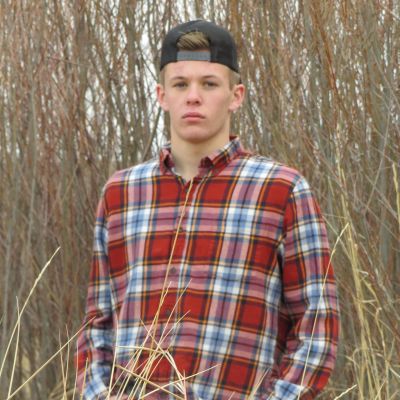 Ethan
Ryan
Bossert
Join us in celebrating Ethan—please share your stories and photos, and help spread the word about this page!
Ethan Ryan Bossert passed away in Deer Lodge, Montana on October 30, 2021, at the young age of 19.

Ethan was born on August 8, 2002 in Livingston, Montana, to Kevin and Gwynne Bossert. He came into this world a fighter, four weeks earlier than he should have and weighing only 5 lbs. 5 oz. - small but mighty.

Ethan attended all of K-12 in the Deer Lodge and Powell County School Districts. He graduated from Powell County High School with the Class of 2020.

Ethan had a genuine love for life and adventure. He enjoyed hunting, fishing, camping, hiking, snowboarding, football and basketball. He also had a creative side that led him to love art and woodworking classes. He was never afraid to get his hands dirty working on his car and truck when it was needed. During his high school years, he was a wide receiver for the Wardens. He excelled in basketball his senior year, hitting his stride just in time. The Wardens reached the state games, winning the first game at a state tournament since 1983. Those were some of his proudest moments and his team achieved it by being great friends led by great coaches and never giving up the fight. He lettered for three years in both sports.

After graduation Ethan's adventurous spirit continued to soar leading him to attend MSU-Gallatin in Bozeman, majoring in Aviation. During the last 14 months of life, he earned his private pilot's license and, most recently, earned his Instrument Rating. This love of flying earned him the nickname "Wing Man". That name holds true to all of his friends.

Ethan was the true light in any room, a friend to everyone he met. He was the class clown, a notorious goofball, and the best big brother, son, grandson, nephew and cousin. Since birth he was known to everyone as the simple letter "E". His closest friends later changed this to "E Money", perfectly fitting his personality.

He was preceded in death by his grandmother, Robyn Jacobs. He is survived by his parents, Kevin and Gwynne, and little brother, Liam Bossert, of Deer Lodge; grandparents, Eugene and Dianne Bossert, of Park River, ND, and Bernard and Evangeline, of Parker, AZ; and aunts, uncles and cousins, Kory and Julie Bossert (Jameson, Ella), Kelly and Julie Bossert (Karter, Jackson, Peyton), Marisa Jacobs (Taylor, Fischer, Conner) Christin and Jake Thibodeau (Antawn, Evalynn) Molly and Chris Hall (Mia, Cortlend, Lauren) William and Kelsea Jacobs (Piper).

Ethan's Final resting place is at the Hillcrest Cemetery in Deer Lodge. Cleared for Take Off Pilot Bossert!

Memorials in honor of Ethan may be made in his name to the Warden Booster Club, PO Box 845 Deer Lodge, Montana 59722. Donations will be used for Scholarships and the Powell County Athletic program.

Visitation will begin at 12:00 p.m. on Sunday, November 7th at Powell County High School in the Gymnasium, 709 Missouri Ave., Deer Lodge, MT 59722., with a funeral Service to begin at 1:00 p.m. in the gymnasium. A graveside service will follow at Hillcrest Cemetery in Deer Lodge.

Please visit www.buttefuneralhome.com to offer the family a condolence or to share a memory of Ethan. Axelson Funeral and Cremation Services has been privileged to care for Ethan and his family.
LINKS
Axelson Funeral and Cremation Services
http://www.buttefuneralhome.com

Bozeman Daily Chronicle
http://www.bozemandailychronicle.com