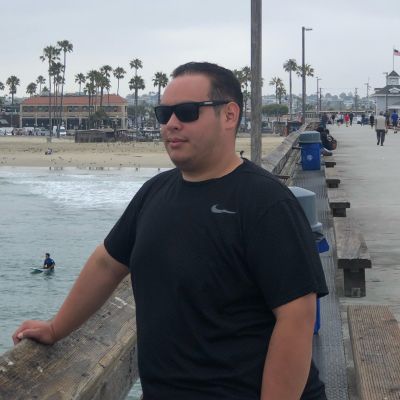 Ernesto
Alberto
Robles, Jr.
Join us in celebrating Ernesto—please share your stories and photos, and help spread the word about this page!
Ernesto Alberto Robles, Jr., 24, of Grand Junction, passed away on January 28, 2021 at St. Mary's Medical Center. He was a mechanical engineer.

Ernesto was born on April 28, 1996, in Montrose, Colorado, to Ernesto, Sr. and Kathy (Ulibarri) Robles. He spent his childhood there, and graduated from Montrose High School. Through a program at Colorado Mesa University, Ernesto earned college credits and graduated from CU Boulder with a Bachelor of Science degree in Mechanical Engineering. He was a resident of Boulder for seven months.

Ernesto was the light of our lives. He strived to be the best man he could be. He was just that...the best! As soon as he walked into the room you could feel his energy. His laugh was contagious. Ernesto was so intelligent. His determination and strife got him through college. He was the rock that held the world together. Ernesto loved to listen to music, travel, and spend quality time with his loved ones. He spread love and life throughout everything he did. Ernesto will be utterly missed by all.

Ernesto is survived by his mother, Kathy Robles of Montrose; brother, Carlos Camacho of Montrose; sisters, Olivia Pena of Fruita, Rebecca Enrique of Olathe, and Briona Robles of Grand Junction; brothers-in-law, Juan Guara of Fruita, and Alfredo Enrique of Olathe; nephews, DeVante Pena-Guara of Fruita, Angel Enrique, Juan Carlos Enrique, and Adrian Enrique, all of Olathe; nieces, Raelena DeHerrera, and Isabella Guara, both of Fruita, and Kaylani Robles of Grand Junction; many aunts, including Donna Russom and Sharon Nail; many uncles; and cousins.

He is preceded in death by his father, Ernesto Robles, Sr.; maternal grandparents, Miguel A. and Elizabeth Ulibarri; and paternal grandfather, Alberto Robles.

A visitation will be held on February 4, 2021 from 4 - 6 pm at Martin Mortuary. Funeral services will take place on February 5th at 1 pm at Martin Mortuary.

Friends and family may leave their condolences, and order flowers, at www.martinmortuary.com.
LINKS
Montrose Daily Press
http://www.montrosepress.com