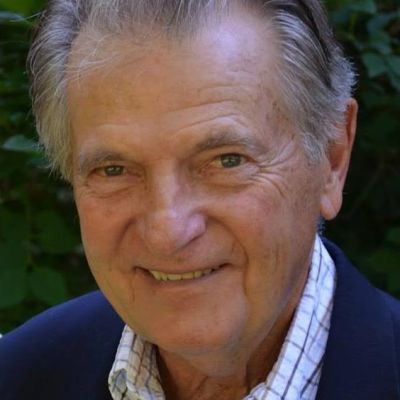 Ernest
Vail
Trowbridge
What do you remember about Ernest? Share your stories and photos here, and invite others to come share their memories.
On December 27, 2022, Ernest Vail Trowbridge, of The Villages, Florida, a beloved husband, brother, father, and grandfather, passed away after a valiant battle against Parkinson's disease. He was eighty-three. Ernie, as he was known to his friends, was born on September 6, 1939, in Boston, Massachusetts, the son of Edmund Harrison Trowbridge and Viola Vail Trowbridge.

He grew up in Weston, Massachusetts, and resided at the Trowbridge family's home at 625 Boston Post Road with his three brothers Edmund (Ted), Robert, and Jonathan. Ernie lost his father at a very young age, and despite having to mature quickly and help care for his mother and younger brothers, he retained a fun-loving and mischievous spirit observed often by his three rowdy brothers and best friend Dick Harding. Ernie graduated from Weston High School in 1955 and was a varsity basketball and football player of note. He had life-long fond memories of lifeguarding at the Weston Memorial Pool for five years, where he also served as the water safety director. While at Weston High School, he memorized Longfellow's poem Evangeline, which he proudly recited throughout his life when inspired, "This is the forest primeval. The murmuring pines and the hemlocks ...."

He graduated from Colby College, in Waterville, Maine, in 1961 before being commissioned in the United States Navy at the Naval Air Station in Pensacola, Florida. He graduated from naval air training and treasured his service as a Navy helicopter pilot flying Sea King helicopters. Notably, he served as a pilot for the water recovery of astronauts during an Apollo mission. While in Pensacola, Ernie attended a beach party where he met Catherine Bailey (Kitty), the daughter of a Master Chief Petty Officer. He married Kitty on November 6, 1965, at the chapel on the Naval Air Station. They were stationed at Quonset Point Naval Air Station in Rhode Island, and Ernie completed his Naval service. Ernie and Kitty then moved to Miami where Ernie began his career with Eastern Airlines in 1967.

Ernie and Kitty ultimately settled in Brookfield, Connecticut, where they raised their daughter Laura and son Christopher. Ernie became a Captain with Eastern Airlines, for which he flew for 24 years, before continuing his career with Air Aruba and ultimately retiring from North American Airlines in 1999. He was active in the Brookfield community, served as President of the Jaycees and President of the Brookfield Trail Blazers, and loved playing tennis at the Candlewood Tennis Club and boating and waterskiing on Candlewood Lake with his wife and children. Ernie was a member of the Congregational Church of Brookfield where he volunteered in the Memorial Garden planting trees and helping maintain the garden.

After his wife Kitty passed away in 2000, he was blessed with love a second time when he met Barbara Carroll, whom he married in 2003. Ernie and Barbara split time between Connecticut and Florida before settling full-time in The Villages surrounded by their old and new friends, excelling in golf and tennis, and often traveling the country to see special friends and family. Ernie attended the New Covenant United Methodist Church in The Villages.

Ernie is survived by his wife Barbara, his brothers Edmund Harrison Trowbridge, Jr., of Punta Gorda, Florida, and Robert Vail Trowbridge, of Denver, Colorado, daughter Laura Vail Chafin, of Windsor, Colorado, son Christopher Bailey Trowbridge (Rachel), of Dallas, Texas, step-sons Jonathan Smith Carroll, of Corvallis, Oregon, and Richard T. Carroll, Jr. (Kathy), of New Paltz, New York, grandchildren George, Henry, Lucy, Coco, Vivian, Jackie, Hudson, Madison, and Anderson, and several cousins, nieces and nephews. He was predeceased by his parents, his first wife Kitty, and his brother Jonathan Vail Trowbridge.

A memorial service for friends and family will be held on January 27, 2023, at 11:00 a.m. at the New Covenant United Methodist Church followed by a reception. Interment will take place at the Memorial Garden at the Congregational Church of Brookfield at a later date. In lieu of flowers, the family would be honored by a donation in Ernie's memory to his favorite charity Smile Train Inc. (www.smiletrain.org) or to the Michael J. Fox Foundation for Parkinson's Research (www.michaeljfox.org).
LINKS

National Cremation Society - Fruitland Park
http://www.nationalcremationsociety.com
The News-Times
http://www.newstimes.com

The Villages Daily Sun - Memoriams
http://www.thevillagesdailysun.com