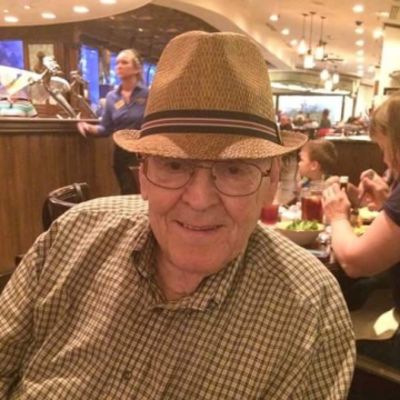 Emmitt
DeWain
Harper
Loving Husband, Father, Grandfather, Great Grandfather. Favorite pastime was camping in his RV with mom.
Emmitt DeWain Harper, 95, of Springfield, Missouri went to be with his Lord and Savior on Friday, February 22, 2019 surrounded by his loving family.

Emmitt was the youngest of eight children born to William Henry and Julia Ann (Griffey) Harper in Bridgewater, Pennsylvania on August 13, 1923. He married Grace Anna on April 30, 1960 after the death of his wife Alma. Together they served the Lord the remainder of their lives raising their daughters to love and serve the Lord. Emmitt and his wife were passionate RV'ers and enjoyed traveling and meeting new people. They loved taking their children and later grandchildren to experience their passion of the great outdoors.

He was survived by his six daughters and son-in-laws, Carol Maplesden, Nadine and (Jerry) Parker, Deborah and (Richard) Armstrong, Doris and (Charles) Greer, Sharon and (Steve) Ambrose, Anita Harper, seventeen grandchildren and eighteen great grandchildren.

Emmitt was preceded in death by his wife Grace Anna (Morris) Harper, his son-in-laws James Maplesden and Kenneth Hicks, his parents William Henry Harper and Julia Ann (Griffey) Harper, his brothers Eugene Harper, Fred Harper, Carl Harper, Henry Harper, Walter Bullman and sisters Elizabeth Bussinger and Hazel Coates.