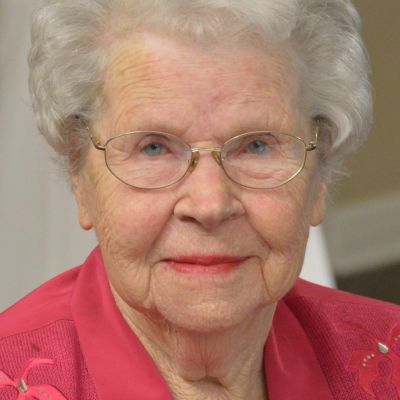 Elwyn
Ellen
Mansfield Bly
Join us in celebrating Elwyn—please share your stories and photos, and help spread the word about this page!
Elwyn Bly, 94, passed peacefully on October 16, 2021, at the Heritage Home in Watertown, WI.

It was 40 degrees below zero in the Town of McCarty, Burnett County, Wisconsin, when Elwyn Ellen Mansfield was born to Ellen (Knutson) and Harry Mansfield on February 9, 1927. Elwyn spent her formative years there during the Great Depression. One of her fondest memories was walking to the Clam Dam to fish with her little brother Leon. Elwyn graduated from Webster High School in 1945 and promptly boarded a train for Washington DC to work for the War Department. She returned home to work for Butler Brothers in Minneapolis. On October 31, 1948, she married William Bly. They lived in Colorado for a few years and then came back to Wisconsin. They lived in various towns in Wisconsin finally settling in Fifield for 36 years. They moved to Siren in 2004, where they enjoyed visits from grandchildren and great-grandchildren. William died in 2008. Elwyn continued to live in her home with the faithful care of family members, the help of Interfaith Care Givers of Burnett County and the devotion of John and Pat Angel. Elwyn spent her last few years at Heritage Homes in Watertown WI and received excellent care.

Elwyn always loved being outdoors. She had a garden and was a good deer hunter. She was a great seamstress, sewing clothes for her little sister Beverly, her cousins and later her three daughters. Elwyn loved to cook and bake, and was famous for her carrot cake. She took up cross country skiing and loved all the trails in Price County.

Elwyn was preceded in death by her parents; her husband, William; her sister, Dolores; brothers, LaVern and Leon.

Elwyn is survived by her sister, Beverly Brunclick, of Webster, WI; three daughters, Carol (Ron) Grunewald of Watertown, WI, Joan (Marty) Verhoef of St. George UT, and Lois (Ken) Mease of Bethlehem, PA. She leaves three grandchildren, all graduates of St. Olaf College, Robbie (Gabby) Grunewald of St. Paul, MN, Amy (Ryan) Grunewald-Mattison of Madison, WI, and Addie Mease of Minneapolis MN; four great-grandchildren, Elliot Arthur, Dietrich William, Koen Amos Grunewald-Mattison and Sena Elwyn Grunewald. Elwyn also leaves behind four classmates who had been gathering for monthly lunches for decades.

Services will be held at the convenience of the family. Interment will be at the Lorain Cemetery.

Memorial gifts may be made to the Price County Historical Society or the Interfaith Care Givers of Burnett County.

Price County Historical Society, P.O. Box 156 Fifield, WI 54524-0156. Online donations can be made at http://www.pricecountyhistoricalsociety.org. Use the donation button in the gift shop link and indicate in the comment section that your donation is In memory of Elwyn Bly for the Louis A. Koenig Research Center.

Interfaith Care Givers of Burnett County or P.O. Box 676, Webster, WI 54893. Online at http://www.interfaithcaregiversburnettcountywis.org/donate.html.

Arrangements were entrusted to Swedberg-Taylor Funeral Home, Webster. Online condolences can be made at www.swedberg-taylor.com.
LINKS
Swedberg-Taylor Funeral Home
http://www.swedberg-taylor.com

Watertown Daily Times
http://www.wdtimes.com