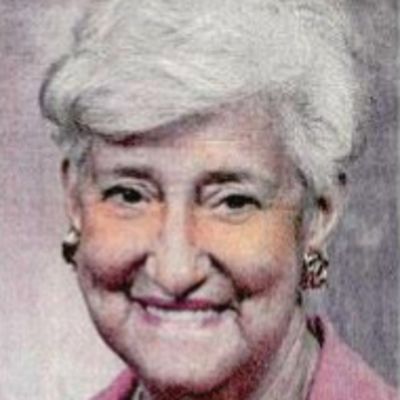 Elva
Louise "Lou"
Cavanaugh
Join us in celebrating Elva—please share your stories and photos, and help spread the word about this page!
Elva Hite Cavanaugh, known as Lou, age 95, died peacefully at the Preston Health Center on Wednesday morning, July 7, 2021. She was predeceased by her beloved husband of 65 years, H.R. (Harold Russell), on Valentine's Day in 2014. Lou is survived by her loving immediate family and scores of friends who have loved her and consider her family during her 40 years on Hilton Head Island.



Immediate family includes her daughter Connie Dzendzel and husband Nick; grandson Nathan, his wife Roxanne (Purdy) Dzendzel, and great-grandsons Myles and Spencer; grandson Patrick and wife Christina (Kohler) Dzendzel, great-granddaughter Loucie and great-grandson Travis.



Lou is survived by her sister Joanne Noe; brother William Hite (Ruth); and brothers-in-law Walt Brinker and Don Cavanaugh. She is pre-deceased by her three sisters, Betty Ruffner (Jim), Lorraine Trusell, Mary Jane Brinker, and brother Robert Hite.

Lou's greatest gifts were her loving heart, endless curiosity, and capacity for friendship. Over her many years, Lou bonded with people of all ages, forming life-long friendships that endured until her passing. Her family unselfishly shared this warm and loving woman with multiple generations of friends, and there are probably hundreds of islanders of all ages who called her Nanny.

Lou was born on October 9, 1925, in Greensburg, PA, the daughter of Henry Earl and Bessie Lenora Hite. She attended Greensburg High School where she met H.R., the star basketball player with big hands and a bigger heart.

Following high school graduation and three years when H.R. served in the Marines, Lou and H.R. were married. Lou and H.R. relocated to Hilton Head Island in 1981 to be closer to their daughter and her family.

Lou was a woman of impeccable grooming, seldom without earrings and pearls. She had high expectations for the women in her family, and they did not disappoint.

Lou worked at Sea Pines Company in the years when Charles and Joe Fraser loomed large. She was Club Administrator at the Sea Pines Country Club for eleven years. She made life-long friends and a lasting impression on all who encountered her. In her later years, Sea Pines arranged for Lou and H.R. to attend the Heritage Golf Tournament in a special golf cart.

Lou truly enjoyed the sports, the cheering, and the accomplishments of the younger generations. She and H.R. were friends to many and supporters of all. They were regular fixtures at the stadiums, fields, auditoriums, audiences, and courts around Hilton Head Island. They supported their grandchildren - and everyone else's.

When the Dzendzels opened the Upper Crust in 1989, their pizza shop in Moss Creek Village, H.R. jumped in to cook while Lou worked the front greeting customers. The restaurant became a beloved hang-out for many, in no small part because of the warm welcomes extended by Lou and H.R.

Lou's years after H.R. death in 2014 were lonely for her but filled with the love and activities of her family. When she moved to Indigo Pines after many years at Governor's Harbor in Hilton Head Plantation, she formed quick and easy friendships. She cherished her time there and the wonderful service and support provided by the Indigo Pines staff.

Lou will be cremated at Island Funeral Home, finally reunited with her beloved husband. Her cremated remains along with H.R. will be interred in Greensburg, Pennsylvania.

A Memorial Service will be held at Bluffton United Methodist Church on Calhoun Street, on Monday July 19, 2021 at 11 AM. In lieu of flowers, memorials may be made to the Boys and Girls Club of Hilton Head, PO Box 22267, Hilton Head Island, SC 29925. Islandfuneralhome.com.

Per Lou's request, please go forward to remember her in ways that bless others.
LINKS
The Island Funeral Home Crematory
http://www.theislandfuneralhome.com
Greensburg Tribune-Review
http://triblive.com