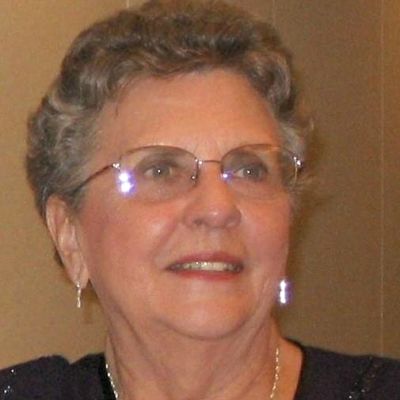 Ella
Mae
McGinness
Did you know Ella? Please share your stories and photos, and help spread the word about this page!
(1932-2023)

Having fought a long valiant battle with Alzheimer's, Ella Mae McGinness was reunited in heaven with her husband and their four children on the morning of January 17, 2023, at Oak Park Senior Living, Oak Park Heights, Minnesota. She was 90 years old.

Ella Mae was kindhearted, generous, fiercely independent, and devoted to her family. She was known by her friends and family to be unfailingly, conscientious and thoughtful, always remembering important dates and special occasions with a card or a phone call. She was a sports fan and well-versed in current affairs until her failing memory robbed her of those pleasures in recent years.

Ella Mae was born October 27, 1932 in Sidney, Iowa, to Arlie and Florence (Noakes) Shelman.

She was predeceased by her parents and four siblings Bill, Larry, Arlene (Myers) and Eva Lee (Farris). The Shelman clan lived in rural Nodaway County and Worth County, Missouri, as well as southwestern Iowa. Ella Mae graduated high school in Grant City, Missouri.

Ella Mae married Bill McGinness in Maryville, Missouri, on April 20, 1951. Bill made his career in military intelligence while serving in the US Air Force. Consequently, the young couple began their family in multiple duty postings, including Texas, Mississippi, and Berlin, East Germany, during the height of the Cold War. Upon his retirement from the Air Force, the family moved to Bowie, Maryland, where Bill worked for the National Security Administration. Together Bill and Ella Mae adored their four children Jennifer, Jeffrey, Jerry and Julie. Tragically, Bill and their four children have all passed.

Ella Mae is survived by her grandson, Jody McGinness, his wife Rebecca, and their three children Finn Jeffrey, Nova Claire, and Henry Julian, all of Gaithersburg, Maryland. She also leaves a devoted daughter-in-law, Jean (Ruedy) McGinness, of Stillwater, Minnesota, who provided loving support throughout Ella Mae's declining years. Having lived nine decades, Ella Mae's family tree includes multiple generations of cherished nieces, nephews, and cousins living in far-flung locations.

The family wishes to recognize the staff of Oak Park Senior Living for their attentive, personal and professional care during Ella Mae's life there since 2017.

Funeral services will be held at Price Funeral Home, Maryville, on Saturday, January 28, at 1:00 p.m. Visitation for family and friends will be held from 11:00am to 1:00pm. Burial will take place at the Hillcrest Cemetery, Skidmore, immediately following the service. Those wishing to make a contribution in Ella Mae's memory can do so to Compassionate Friends, the Alzheimer's Association or the American Heart Association.
LINKS


Stillwater Gazette
https://www.hometownsource.com/stillwater_gazette