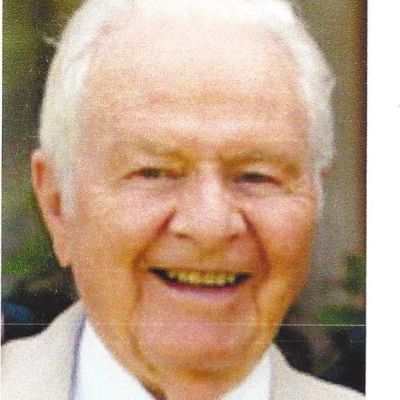 Edwin H.
"Eddie"
Amend
How do you know Edwin H.? Please share your stories and photos, and help spread the word about this page!
Edwin "Eddie" Hinshaw Amend passed away on April 2, 2022, at Hospice of Laramie. Eddie had resided in Riverton, Wyoming for 30 years until he moved to Spring Wind Assisted Living in Laramie, Wyoming, for the last three years of his life.

Born on July 17, 1927, to Lewis Edker Amend and Sappho Mae (Hinshaw) Amend at home on the family farm in Rocky Ford, Colorado. Eddie grew up working his parents' farm in the Arkansas River Valley, Colorado. After graduating from Rocky Ford High School, Eddie attended Colorado A&M (now Colorado State University), where he met and married his life-long love, Delores "Dee" Helen Gompert. They were married at the First Presbyterian Church in Fort Collins, Colorado, on March 15, 1951. He spent a semester during his senior year as a Rotary Foundation Graduate Fellow at Edinburgh University, where he made frequent speaking appearances at Rotary Clubs in Scotland. He received the Diploma in Rural Science while there.

After graduation, he joined the United States Air Force, where he served as a communications officer and attained the rank of First Lieutenant during the Korean Conflict.

Thereafter, Eddie worked for a rural electric cooperative in Cortez, Colorado, and then with the Colorado Agricultural Extension Service in Akron, Colorado, until 1965. That year, he accepted a position with USAID as Extension Advisor for the CSU/Nigeria Project and moved his young family to Nigeria. The Amend family's stay in Nigeria was cut short after two years, when they were evacuated due to the Biafran War (now generally known as the Nigerian Civil War). Eddie and his family returned to Fort Collins, Colorado, where he earned his Master of Arts in Agriculture in 1968, before moving on to Michigan State University, where he earned a Ph.D. in Communications in 1971.

From 1976 until his retirement, Eddie was Assistant Director of the Agricultural Extension Service at the University of Wyoming in Laramie, Wyoming and North Dakota State University, Fargo, North Dakota, finishing his career as Regional Director in Riverton, Wyoming, where he retired in 1988.

Eddie once said that "Music is my worship." Indeed, music was his lifelong joy. He played piano by ear, and sang in church choirs wherever he lived. He sang in groups such as "The Uncalled Four," a barbershop quartet in college, and the Central Wyoming A Capella Singers (CWACS) after he retired in Riverton. He and Dee traveled to Europe with the CWACS (pronounced "Quacks" to those in the know) where they were honored to perform at venues in Spain and on the shores of Normandy Beach in France. Eddie's family has followed in his musical tradition, enjoying and performing music in all its forms, and keeping his legacy alive.

Eddie was active in the Riverton United Methodist Church and he served on the Board and in the choir. He enjoyed his community church very much.

Another of Eddie's passions was flying. Upon discharge from the U.S. Air Force, Eddie was able to use funds from his GI Bill to become a civil aviator. He also enjoyed building and flying radio controlled model airplanes. Eddie was a founding member and long-time president of the Wyoming Modelers' Park Association (WYMOPA), where he led the formation of the highly successful Park. He also enjoyed camping and fishing in the Rocky Mountains of Colorado and Wyoming with his family and friends.

Eddie was a devoted father to Mary (Jim) Royston of Denver, Noel (Ginger) Amend of Calhan, Colorado, Carol (Bruce) Adams of Laramie, and Chris (Jen) Amend of Riverton. Eddie loved the role of "Granddaddy" and spent joyful times with each of his grandchildren: Hilary (Kenny) Chan, Tracie (Mike), Ashley (Zack) Royston, Kellie Amend, Devin (Becky) Adams, Kelsey (Luca) Ciccu, Garrett (Yazmin) Adams, Rex (Sady) Amend, and Tom (Louisa) Amend. He is "Great-Granddaddy" to Evelyn Chan, Russell Amend, Gabriella Ciccu, Jocelyn Chan, and Alessandro Ciccu.

It was Eddie's and Dee's nature to be welcoming and accepting of everyone. They were active with the UW International Student Association in the 1970s, making life-long friendships with people all over the world and, maintaining contact with them. A special Norwegian couple, Ole and Eldbjorg Lindefjeld and their family, became an important part of their extended family. Eddie and Dee also had a keen interest in adventure, and this led them to embrace the international experiences they relished.

Eddie Amend was predeceased by his infant brother, Lewis Edker Amend, Jr. ("Pardy"), his parents, his loving wife of 65 years, Dee, his brother Horace Cassell Amend, and his brother-in-law, Raleigh Brooks.

Eddie is survived by his sister-in-law, Marian Amend, his sister, Edith Amend Brooks, his brother Dale Norman Amend and wife Nancy, and all of his children, grandchildren, and great-grandchildren.

The Amend family wishes to publicly thank our wonderful and compassionate Dr. Emma Bjore and her staff from Ivinson Memorial Hospital, who not only cared for Eddie's physical body, but ministered to his spirit. Dr. Bjore was a caring counselor for our "Laramie Team," and we are forever grateful. We extend our gratitude to Spring Wind Assisted Living for providing a loving and caring home for Eddie for three years, and to the Hospice nurses and volunteers who gave him the extra care he needed as a non-resident over a period of time before his death.

Memorial contributions may be made in Eddie's name to Hospice of Laramie, 1754 Centennial Dr., Laramie, WY 82070.

Cremation has taken place. Per Eddie's and Dee's wishes, a Celebration of Life service is planned for this summer, at a time to be determined, in the Snowy Range Mountains west of Laramie.
LINKS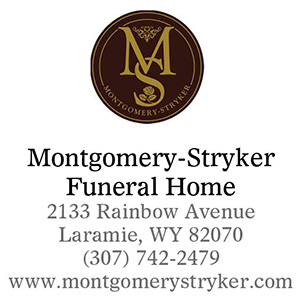 Montgomery-Stryker Funeral Home
The Riverton Ranger
http://www.dailyranger.com