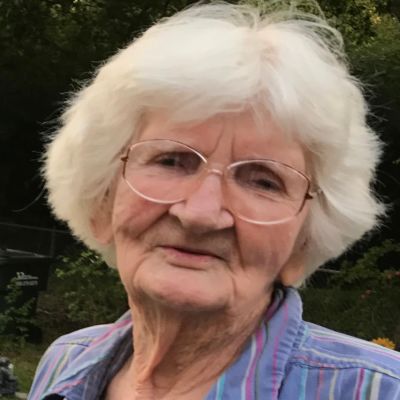 Edna
Tootsie Gann
McCabe
What do you remember about Edna? Share your stories and photos here, and invite others to come share their memories.
Edna (Tootsie) Gann McCabe passed away in her home in San Marcos, Texas on September 6, 2019 at the age of 101.

Born to Thomas Floyd Gann and Alta Magee on February 9, 1918 in Porter, Oklahoma, Edna was the fifth of nine Gann children who grew up on the family farm in deep south Texas. She graduated from Rio Hondo High School in 1936 and married Vincent (Vin) Lawrence McCabe in San Benito on June 25,1939. Together Vin and Edna raised a family of nine children.

Vin and Edna moved to Brownsville, Texas in 1949 to be nearer to Vin's work at Port Brownsville. Edna supported Vin's career in the International Longshoreman Association by actively participating in the Local ILA Women's Auxiliary, supporting family socials and assisting ILA families in need.

Edna and Vin's home was one where children, relatives and neighbors felt welcomed and accepted. Both Edna and Vin stressed the value of learning so that each child earned a degree, and three earned Ph.D.'s. Seven of their children became educators.

Edna is survived by one brother, James Gann and wife, Ann Nell, from Bay City, Texas, and by six children: Michael and wife, Grace, from Angleton, Texas; Dennis and wife, Mary Lou, from Austin; Tom and late wife, Susan, from San Marcos; Terry and wife, Diann, from San Marcos; Peggy from San Marcos; and Jimmy and wife, Jo, from Driftwood, Texas. In addition, she is survived by 13 grandchildren who knew her as Grandma Tootsie: Brian McCabe, Lisa McCabe-Luedecke, Tim McCabe, Scott McCabe, Kevin McCabe, Michael Pat McCabe, Glenn McCabe, Eric Robinson, Joseph McCabe, Casey McCabe, Adam Rodriguez, Kristy Haschke, and Samuel McCabe, as well as 20 great-grandchildren and many nieces and nephews.

Edna was preceded in death by her parents and siblings Herman, Opal, Mary, Floyd, Howard (Pete), Robert (Bob), and Alta (Ruth), her husband, Vin, daughters, Donna and Ann Rita, and son, Philip.



After living in Brownsville for 52 years, Edna moved to San Marcos in 2001 to be near her family. Moving into the house her children and grandchildren built for her, she made a warm home staying close to loved ones through regular phone calls and visits.

Edna enjoyed nature, being in the garden raising flowers and vegetables, and waiting for the purple martins to arrive. In addition, she was full of life such that people loved to visit and engage with her in free-flowing conversations. Everyone who met her felt a deep connection with her, and her grandchildren and great-grandchildren remember ending conversations with her by saying, "I love you Grandma Tootsie," and waiting for her to respond, "I love you more!"

Edna's deep and enduring friendships with Victoria Briones of Matamoras and Alfie Castillo of McAllen were sources of support and encouragement.

The family wishes to thank Sarah Muniz and Linda Epperson for the loving attention and care they each gave Edna. In addition, her family is most appreciative of Dr. Gregory Moore and CTMC Hospice Care for their guidance and assistance.

In lieu of flowers, Edna requested that donors contribute to their favorite charity.

A public memorial service to celebrate the life of Edna (Tootsie) Gann McCabe will be held at Pennington Funeral Home in San Marcos, Texas on Tuesday, September 10 at 11:00 AM, with visitation preceding from 9:00 AM - 11:00 AM. A public graveside service will be held on Friday, September 13, 10:00 AM at Mont Meta Cemetery in San Benito, Texas.

Arrangements under the care of Pennington Funeral Home, 323 N. Comanche St., www.penningtonfuneralhome.com, 512-353-4311.


LINKS
The Brownsville Herald
http://www.brownsvilleherald.com