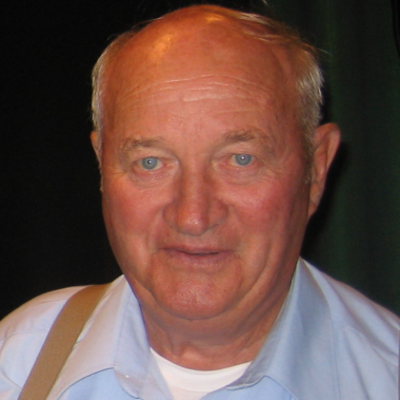 Durwood Scott
Slinker
How do you know Durwood Scott? Please share your stories and photos, and help spread the word about this page!
Durwood Scott Slinker was born on the 27th of August 1934 in Green County Kentucky in the log home on the family farm. Durwood passed away on the 2nd of November 2019 in Glasgow Kentucky.

Father: Erastus Glen Slinker (1900 - 1980)

Mother: Sarah Beatrice Irwin (1910 - 2005)

Wife: Emma Lee Hatton (1937 - )

Married: 27th November 1959

Sealed: 5th August 1970 in the Salt Lake Temple, Salt Lake City Utah

Son: Gregory Darwin Slinker. Daughter-in-law Cheryl Wilkins

Son: Geoffrey Scott Slinker. Daughter-in-law Shannon Grant

Daughter: Deeann Lee Slinker. Son-in-law Joshua Phelps

Grandchildren

Heather Dawn Slinker, husband Shad Studd

David Scott Slinker

Andrew Gregory Slinker

Stephanie Ann Slinker, husband Rafael Anduro

Joseph Scott Slinker, wife Hannah Newren

Rebecca Faye Slinker, husband Steve Carroll

Aaron Grant Slinker

Christopher Lee Slinker, wife Skyley Loughton

Angela Rennee Slinker

Emmaline Lynn Phelps

Liberty Lee Phelps

Laurie Daniella Grace Phelps

Great Grandchildren

Thomas Atticus Carroll

Ann Rennee Carroll

Huck Phillips Carroll

Brooklynn Ann Studd

Rylee Jo Studd

Luca Rafael Anduro

Lucy Mae Slinker

Siblings

Sister: Ruth Evangeline Elliott (1929 - 2015) and husband Allen Elliott (1917 - 1981)

Brother: Stanley Lovene Slinker and wife Betty Wells

Brother: Melvin Clay Slinker and wife Jeannie Carol Blaydes

Sister: Sarah Charlene Newman (1948 - 2019) and husband Charles Newman.

Military Service, United States Army from 1955 to 1957. Basic Training in Fort Leonardwood Missouri and was stationed in Wiesbaden Germany.

Durwood attend school in a one room school house and after the teacher threatened to spank him he skipped school and didn't go back the entire first year. He convinced the teacher to spank him after lunch and during lunch break he left.

Durwood and Stanley played basketball for Center Highschool. They were well known for beating them on the court and afterwards "beating them" off the court.

Durwood was a successful farmer. He and Emma started with a "little" tractor and twenty registered Herford in 1960. Later they bought some dairy cows and started Slinker Brother's Dairy. His honest hard work ethic and the teachings of his family and church guided him to stay out of debt and pay as you go, and "always keep something in reserve". He was an active participant in Agriculture groups.

He was a member of the Church of Jesus Christ of Latter-Day Saints. His grandfather Winfield Scott Slinker was the first family member to join the church 1896 and helped build the first Latter-Day Saint chapel in Kentucky that same year. Winfield Scott told his family on his death bead, "this thing called Mormonism, never doubt it, it is true." His father Erastus Glen Slinker served as the Branch President for fifteen years. Leamon Slinker served as the District Young Men's president and organized church youth dances and activities where Durwood met Emma. Durwood served in many callings at church his entire life.

Durwood, Stanley, and Clay enjoyed family vacations together and hunting in Utah and Wyoming with kin and friends, and visiting their sister Charlene in Utah. He would always visit Ruth every time he was in Louisville.

Durwood was at home and wasn't feeling well and so Emma and Gregory took him to T. J. Samson Hospital for a checkup where he suddenly experienced full cardiac arrest. While the family was surprised everyone is thankful that he passed quickly.

We all await to see him again through the resurrection of our Lord Jesus Christ.

Burial, Slinker Family Cemetery, Green County Kentucky located on the family farm where Durwood was born.

Location: 37.128087, -85.627421
Memories
Looks like something went wrong.
Reload the page and try again.