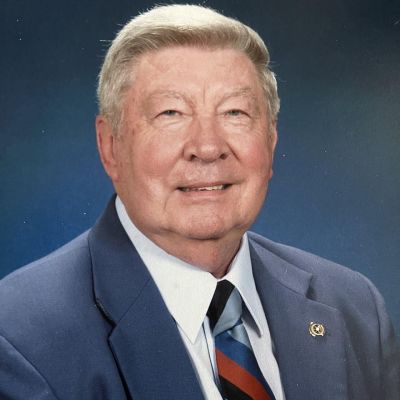 Dr. H. Kenneth
Shook
How do you know Dr. H. Kenneth? Please share your stories and photos, and help spread the word about this page!
Dr. H. Kenneth Shook, 92, of Westminster, MD, died on Wednesday August 17, 2022 in his sleep before dawn, at his family summer home on Beaver Lake, New Jersey. Born March 26, 1930 in Frederick, MD, Ken was the son of the late Denver Jacob and Catherine (Burgee) Shook. Dr. Shook was one of four children in the Denver Shook family of Frederick, MD. Ken grew up on East Patrick Street. His parents had very different backgrounds. His dad was a farm boy in his youth, and his education was often disrupted by chores and other family duties. For this reason he lacked a high school diploma, and gained employment as a mechanic, a road construction foreman, and a Frederick policeman. His mother held a college degree from Hood College. Ken's grandfather Amon Burgee was his hero - Amon was an influential educator and owned the house Ken lived in as a boy, and the farm where Ken and elder brother Charlie spent summers milking cows and harvesting corn. Amon Burgee had a monument in the Frederick cemetery. Ken modeled his life after Amon seeking ways to succeed, excel, and stand out among his peers. Music, Sports, and helping young people finance and pursue a college education became a means to his success in life.

Ken's earliest memories are of singing with Charlie. About 1934, when they were four and six, Charlie sang the melody line of songs, mainly hymns, and, somehow, Ken produced the words by watching his lips. At the same time Ken harmonized by generating a tenor flow of notes even though he could not read the notes printed on the pages of music, and no one had taught him how to harmonize. Step-brother Herman taught Kenny to drive a three-on-the-tree manual shift in his Nash coupe, after returning from WWII service in the Air Force. Herman brought Thomasina, his war bride from Norwich, England, and became the Chief of Police in Thurmont, Maryland, and friend of several U.S. Presidents who stayed at nearby Camp David. Brother Charlie followed the hymns to a pastor's calling in the Methodist church and retired to Florida. Ken's sister Cathy, seventeen years younger, worked as a bookkeeper and retired to Myersville, Maryland.

After graduating Frederick High School in 1947, Ken was in line for a football scholarship at Bucknell University the next academic year, so he pursued a Maryland State Scholarship to attend Charlotte Hall School to fill the year in between, and strengthen his preparation for college. His football career ended at Charlotte Hall with a severe knee injury and Ken chipped a tooth playing basketball. As the lead singer in the school dance band, Ken occasionally needed to catch the bit of wax he used to hide his chipped tooth when it flew out of his mouth while performing. Ken attended Western Maryland College from 1948-1952 in Westminster.

After college Ken pursued graduate school. In 1952 he entered Wesleyan College, chosen as one of twelve students admitted to the first class to begin the new Masters of Arts in Teaching program. In 1954 Ken was recruited to join Madison High School teaching geometry and algebra. Ken joined the Madison Methodist church and became their tenor soloist. He fulfilled his military obligation starting in 1955 at Fort Monmouth, NJ. Ken was selected for the Research and Development Company, who were all scientists and mathematicians with college graduate degrees. Much of his army service entailed working with early punch card computers. Nearly all of his off-base hours were devoted to musical activities of the Red Bank NJ Methodist Church.

In 1958 Ken Shook was called back to his Alma Mater, Western Maryland College, to serve as the first Dean of Admissions and Student Financial Aid. For the next seventeen years, Ken guided thousands of high school students as they applied to college. Using a rolling admissions process, Western Maryland was recognized as the first college to fill its enrollment

each year for many years, with a record number of Western Maryland applicants applying to only one college. Ken served as President of the Potomac and Chesapeake College Association for College Admission Counseling in 1970-71.

The return to Western Maryland College allowed Ken to meet Carol Jennette and marry in 1960, in Big Baker Chapel at Western Maryland College. Carol was quite popular, winning the Miss Maryland title in 1955 and competing for Miss America that same year in Atlantic City, NJ. Carol's father, Dr. W. Carl Jennette, was a highly respected family physician in Westminster who delivered over 2,000 babies. In 1968 Ken became a doctor too, earning his PhD from University of Maryland. Ken and Carol's family grew with William, Jennette, and John, who died at 28 from the long term complications of a horrific motorcycle accident.

Dr. Shook accepted a new position as Executive Director of the Maryland Scholarship Board in 1975, and led a ten year effort to help young people decide to apply for financial aid to afford a college education. The use of computers made it possible to award more scholarships to Maryland students and for larger amounts. No longer would unused grants be reverted to the State. Growth also was aided by increased federal funds for loans, grants and campus jobs. Dr. Shook helped thousands of students work through the task of paying for a college education. He started the first public television program in American on the topic of college student financial aid. The program You Can Afford College premiered in 1982, and Ken's co-host was pre-talk show host Oprah Winfrey.

Before retiring in 1995, Ken returned to teaching High School mathematics, and coached the Westminster High School girls' tennis teams. His success brought the teams numerous county championships and coach of the year honors. Ken supported YMCA projects and devoted much time to the local Community College. For work done on the Advisory Board and the College's Foundation Board, President Joel Shields awarded the Carroll Community College Medal to Ken in 1995.

Ken was a lifetime member of the Rotary Club in Westminster with perfect attendance for fifty years. Ken joined Rotary in 1960 and served in local and international service projects. He was President of the Westminster Club in 1971 and District 7620 Governor in 1997-98. He founded the Bonds Meadow Club in 1994 and headed a group study exchange to New Zealand in 1992. Ken received numerous Paul Harris Awards, was presented the Distinguished Service Award by Rotary International, and his Rotary songs remain the first item to appear when searching the internet for Rotary Songs. Ken self-published two volumes of his memoirs.

Throughout the 1970s Ken and Carol shared performing in community theatre. At the Theater on the Hill and September Song productions, Ken showed his love for singing and acting. Some of most memorable roles include: J.B. Biggley in How to Succeed in Business, Sid in Pajama Game, the Admiral in H.M.S. Pinafore, and Max in Sound of Music.

The Shook family carried on the Methodist family tradition, with Ken remaining a member of Westminster United Methodist Church, thanks to the internet, until his last. He stepped down as a tenor soloist of the Westminster Church Senior Choir at the age of 87.

In 2000 Ken nearly died from aneurysms. As he lay dying Ken experienced a white light moment perceiving his death occurring, but he came back and lived another twenty-two years. Praise be to God.

Surviving are brother Charles Shook and sister Catherine Shook; children Bill Shook and wife Kathy, and Jennette Reynolds and husband Rob; three grandchildren, Lauren, Kimberly and Reanna; and great-grandchildren Magdalene, William, Bryleigh, and Braylon.

The family will welcome friends on Thursday, August 25, 2022 from 3 to 5 and 7 to 9 pm at Pritts Funeral Home and Chapel, 412 Washington Rd., Westminster. A visiting hour shall precede the service at the church at 10 am August 26. Services will be held on Friday, August 26th at 11am at Westminster United Methodist Church, 165 E. Main St., Westminster. For those unable to attend Ken's service it will be livestreamed on the church website http://www.wumcmd.org/ Interment will be in Meadow Branch Cemetery. Memorial contributions may be made in Ken's name to the Westminster United Methodist Church, 165 E. Main St., Westminster MD 21157.
LINKS
The Frederick News-Post
http://www.fredericknewspost.com