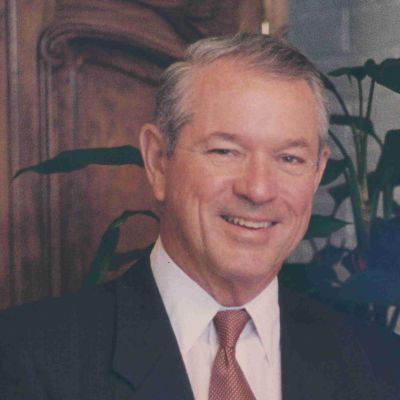 Dr. Charles
Kenneth
Landrum
What do you remember about Dr. Charles? Share your stories and photos here, and invite others to come share their memories.
After a lifetime devoted to helping others, Dr. Charles Kenneth (Ken) Landrum left this earthly world on the evening of Monday, February 22nd, surrounded by loved ones.

Ken was born in Kingsville on November 3, 1929 to William Miles Landrum and Ruth Pfannkuche Landrum. He graduated from King High School and Texas A & M University, where he was a member of the Corps of Cadets, was a Ross Volunteer and served as Company Commander of E Air Force. Upon graduation, he was commissioned as a 2nd Lt. in the USAF Reserve. He met his first wife, June Poteet, in Kingsville and they married in 1952.

Ken received his medical degree from Baylor College of Medicine and completed his residency in OB-Gyn at Baylor in 1957. He served as Chief of the Department of OB-Gyn at Hunter AFB, Georgia. He practiced in Houston and San Angelo before moving to South Texas in 1964, where he was in private practice for 30 years. Ken was a lifelong contributor to his profession and his community, serving in the leadership of many organizations. He was an active member and leader at First United Methodist Church - McAllen for 57 years.

After the loss of June, Ken married longtime family friend Carolyn Cook in 1993. Together, Ken and Carolyn enjoyed traveling and active involvement in the McAllen community. In 1998, Ken became Chairman of the Board of the Vannie Cook Cancer Foundation. He was a driving force in obtaining a collateral agreement with Baylor College of Medicine and Texas Children's Hospital in 2003 to operate a first-class Pediatric Hematology and Oncology Clinic in facilities owned by the Cook Cancer Foundation. The clinic continues to help children in the Rio Grande Valley today, providing services for those with cancer and blood disorders.

Ken is preceded in death by his parents, his sister, Dorothy Ruth Landrum Brown, and his first wife, June Poteet Landrum. He is survived by his wife of 28 years, Carolyn Vance Cook Landrum, his daughters, Leslie Landrum Kingman (Tom) of San Antonio and Mary Landrum Schuler (Lance) of Houston, his step-daughters, Kathy Cook Collins (Jim) of McAllen, and Carol Cook Dalton (Sam) of Dallas, and his sister-in-law, Anne Poteet Munk of Boerne. Known as their Bof-Bof, he also is survived by fifteen beloved grandchildren, Dr. Taylor Kingman (Codi), Hunter Kingman (Shannon), Trent Kingman (Ashley), Berkley Kingman Anderson (Campbell), Brooke Schuler, Jordan Schuler, Jennifer Collins Stone (Tyler), Will Collins (Jessica), Courtney Collins Tuttle (Barrett), Caroline Collins Badouh (Bo), Vannie Collins (Julia), Sam Dalton, Loring Dalton, Katie Dalton and William Dalton. He and Carolyn also share 22 precious great-grandchildren.

A private family memorial service is to be held Monday, March 1st at 1:00 p.m. at First United Methodist Church - McAllen. The church has requested that attendance be limited to family only but your virtual attendance would be welcomed at the service on the FUMC McAllen YouTube channel accessed at https://www.youtube.com/channel/UClWPmYPhfYlOk0yynm2qCRg.

Contributions in Dr. Landrum's memory may be made to the Vannie Cook Cancer Foundation (vanniecook.org), First United Methodist Church - McAllen (fumcmcallen.com), Snack Pak 4 Kids - San Antonio (SP4KSA.org) or to the charity of your choice.
LINKS

Kingsville Record & Bishop News
http://www.kingsvillerecord.com