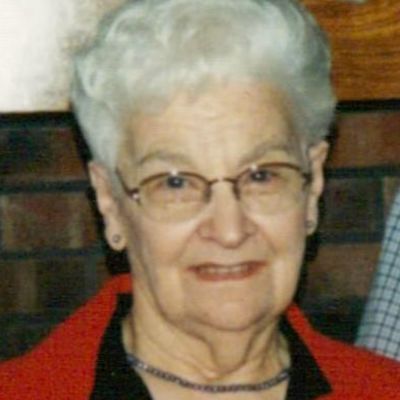 Dorothy
K.
Vogel
What do you remember about Dorothy? Share your stories and photos here, and invite others to come share their memories.
DOROTHY K. VOGEL, age 96 of Jefferson passed away on Monday September 26, 2022, at the University Hospital Madison. She was born on June 16, 1926, to Enos and Ottilia (Werner) Schroedl. She married James N. Vogel on June 5, 1948, at St. John the Baptist Catholic Church, he preceded her in death on May 1, 1989. Dorothy grew up and worked on the Schroedl farm and Meat Market in Jefferson. She loved to cook and bake, especially cake decorating. She enjoyed her vegetable and flower gardens, sewing and most recently her greeting card making.

She is survived by her family: sons Roger (Brenda) Vogel of Jefferson, and William (June) Vogel of Jefferson. Grandchildren Adam Vogel, Allison Vogel, James "Alex" Vogel, Jennifer Vogel, Matthew Vogel (fianc? Journee Hutchcroft). Sister Alice "Susie" (Vern) Hoffman, sisters in law Agnes Schroedl, Jean Schroedl, Clara Vogel, Dorothy J. Vogel, Dorothy A. Vogel, Sr. Marianne Vogel, Catherine Vogel and Luella Vogel, brothers in law Lyle "Kenny" Vogel and Francis Vogel. Many nieces, nephews, other relatives and many friends.

She is preceded in death by her parents, her husband, brothers Alfred Schroedl, Clarence Schroedl, Reuben Schroedl, Roger Schroedl, Herbert Schroedl, Robert Schroedl, Paul Schroedl and Edward Schroedl, sister Marion Vogel, 7 brothers in law and 5 sisters in law.

Mass of Christian Burial will be held at 12:00 noon on Tues October 4th at St. John the Baptist Catholic Church in Jefferson with the Rev. Thomas Coyle officiating burial will follow in the Parish cemetery. Visitation will be at the church on Tuesday morning from 10:00 - 12:00.

Visit www.schneidermichaelisfuneralhome.com to leave a condolence for the family.
LINKS
Schneider-Michaelis
http://www.schneidermichaelis.com

Daily Jefferson County Union
http://www.dailyunion.com