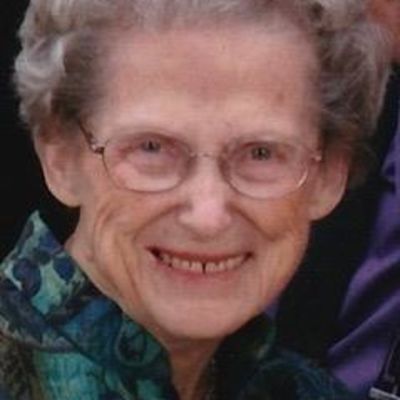 Dorothy Helen
Fancher
Join us in celebrating Dorothy Helen—please share your stories and photos, and help spread the word about this page!
Dorothy Helen Fancher, 90, of Edwardsburg, Michigan, passed away on October 27, 2017 surrounded by love.

Helen was born on June 18, 1927 to Wayne and Dorothy (Kelligar) Logue in Pana, Illinois. She grew up in a large family that she dearly loved.

Helen worked for the Illinois Central Railroad, where she met the love of her life. On April 12, 1947, Helen married Dale Fancher in Rantoul, Illinois. Helen and Dale were married for more than 70 years and loved each other immensely. Helen passed away only 10 days after her beloved husband. Their love was one for the ages.

She was also preceded in death by her precious daughter, Susan; her parents; her brothers, Jack Logue and Jim Logue; and her grandson, John Paul Forys.

Surviving are her brothers, Thomas Logue and Donald Logue; her daughter, Dorothy (Joe) Forys; son, Dale (Kathie) Fancher Jr; grandchildren, Joe (Liz) Forys Jr, Dan (Sharlena) Forys, Susan (Chris) Lackey, Dori (Jim) Gosz, Dale (Kate) Fancher III, Julie Fancher, Denis Forys, Jimmy Forys, Ryan (Candace) McGuffey, Kevin (Rachel) McGuffey, and Aaron (Sarah) McGuffey; and 18 great-grandchildren.

Helen lived her life to the fullest. She would very easily become the life of the party. She enjoyed shopping, especially for jewelry. She was an awesome cook. She loved playing with her grandchildren and great-grandchildren. From dancing, ice skating, playing catch with a football, even riding a mechanical bull, Helen knew how to have fun with her family and give them incredible memories.

Helen had endless compassion and empathy. She was always there for anyone who needed someone to listen to them or to help any way that she could. Helen never knew a stranger because she loved to talk to people and she made friends everywhere that she went. Simply put, to know Helen was to love her. Helen loved her family above all else, and she was the heart and soul of her family. Helen lived her life as an example of unconditional love and because of the love that she gave her family, they will forever remain a testament to how incredible of a woman she truly was.

Visitation will be Monday, October 30 from 5-9pm Eastern Time at McGann Hay, Granger Chapel, 13260 IN-23, Granger, IN 46530, enter off Cherry Rd. Funeral services will be Tuesday, October 31st at 9am Eastern Time at Our Lady of the Lake Church in Edwardsburg, MI. Burial will follow later on Tuesday at 4pm Central Time at Calvary Cemetery in Mattoon, IL.

To send condolences to the family, please visit www.McGannHay.com.
LINKS

McGann Hay, University Chapel
www.mcgannhay.com

South Bend Tribune
http://www.southbendtribune.com