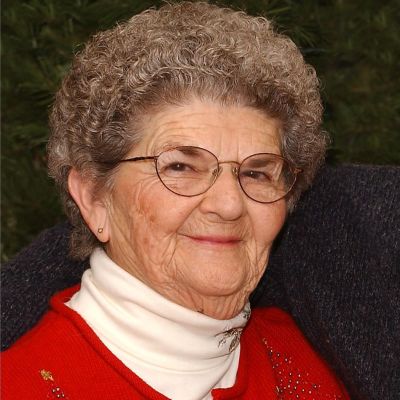 Dora
May
Myers
What do you remember about Dora? Share your stories and photos here, and invite others to come share their memories.
Dora May Myers, 90, of Paoli, Indiana, died March 1,2020 surrounded by loved ones after a long illness. She was born July 23, 1929 in Orleans, Indiana to Elizabeth McNeely Cloud and Henry Raymond Cloud. She is survived by her husband of 71 years, James Myers; six children, Nancy Frias of Paoli, Indiana; Tom Myers (Waynetta) of Lexington, Kentucky; Bill Myers (Cathy) of Salem, Indiana; John Myers (Marquita) of Hardinsburg, Indiana; Mary Limp (Phil) of Paoli, Indiana; Bob Myers (Robin) of Salem, Indiana; twelve grandchildren, Wade Myers (Holly) of Salem, Indiana; Amy Walker (Steve) of Pekin, Indiana; Elizabeth Keller (Garrett) of Clermont, Florida; Kristin Fore (Andrew) of Nicholasville, Kentucky; Carrie Deaton of Indianapolis, Indiana; Michelle Routh (Jared) of New Albany, Indiana; Sarah Chensky (Greg) of Culver City, California; Seth Limp (Catherine) of Jacksonville, Florida; Emilee Myers of Washington County, Indiana; Nathen Myers (Elizabeth) of Greenville, Indiana; Jordan Myers (Mackenzie) of Corydon, Indiana; and Mallory Barker (Jameson) of Celina, Texas; sixteen great-grandchildren and many nieces and nephews. She was preceded in death by her parents and her brother Dr. James P. Cloud.

Dora May was an avid reader and loved music, playing the violin and trumpet. During WW II she played taps at military services and served as a civilian military messenger. She was valedictorian of her class at Orleans High School. She worked in the Cloud Brothers' General Store with her father. Jim and she were married June 13, 1948. She loved fishing with Jim after he "hooked" her, in the ear, on their honeymoon. They spent many happy days fishing, especially enjoying salmon fishing in Michigan and Alaska. Dora May was a member of the Westview Christian Church, the Friendly Neighbors Homemakers Club and the Tri-Kappa Beta Tau Chapter of Salem. She served as chairperson of the Salem Blood Mobile for several years. Dora May enjoyed gardening, cooking and baking having her canning win several awards at the Washington County Fair.

Dora May encouraged her children and taught them to be curious about everything, making each day a learning opportunity and there was no such thing as boys activities or girls activities. A favorite activity for the whole family was horse back riding. Horse shows, parades, contests, trail rides, and daily rides during warm weather, she was always there with them, often with a camera in her hand.

Dora May enjoyed history and travel. After all of the children were grown, she and Jim crisscrossed the country together in a semi becoming "professional travelers" as she called it, exploring the highways and byways of the entire country.

Funeral services will be held Thursday at 11AM at Weathers Funeral Home. Burial will follow at Claysville Cemetery. Visitation will be Wednesday from 4-8PM and Thursday from 9-11AM at the funeral home.

Memorial contributions may be made to: Westview Christian Church or Alzheimer's Association.
LINKS
Paoli Republican
http://www.paolinewsrepublican.com