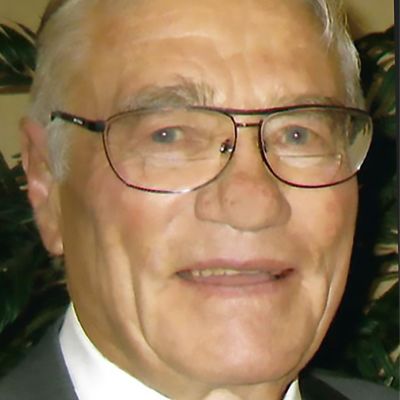 Donald
C
Barnett
Join us in celebrating Donald—please share your stories and photos, and help spread the word about this page!
Donald C. Barnett passed away peacefully in Edmond, Oklahoma on June 16, 2021, exactly 91 years after his birth in San Fernando, California in 1930. He was born in a house his father built by hand that still stands, having survived several devastating earthquakes over the years that destroyed most neighboring houses.

When Don was three years old his family moved to Muleshoe, Texas where his father and mother, Charles and Elizabeth (Wilhour) Barnett, assisted by his grandfather A.P. Barnett and other family members, built another house that was his home throughout his elementary and high school years. He and his younger siblings, Richard, Barbara (Puckett), and Diana (Stewart), all attended Muleshoe schools.

Don helped out on the family farm and loved hunting, fishing, backpacking and many sports, including football, boxing, and later golf. He was middleweight Golden Gloves champion for the Lubbock District in 1947, and he loved football so much that he served his senior year at MHS twice in order to play. He also drove a school bus while still a student, and was known as a hard worker, but also as a prankster. (Note the 1945 yearbook where sad sophomores Donald Barnett and Bobby Boles look like twins, except for the different shirt and a hat added as a disguise).

After graduation, he attended Abilene Christian College for two years, where he was encouraged by the coach to play football. He declined because they didn't allow married men to play, and he wanted to get married. In 1949 he wed Joy F. McKnight from Hale Center, Texas. Don left college and started farming full time with Joy's parents, Clark and Albaree McKnight, near Hale Center.

After two very successful years growing cotton and the birth of their first son, Jerry Don, the couple used their savings to buy a dairy farm in the Missouri Ozarks near Mt. Grove. After a few years on the dairy farm and the birth of son Clay Alan and daughter Donna Jeannine, the family moved to the town of Cabool, where their third son, David Lee, was born.

Don began a series of sales jobs, selling encyclopedias, insurance, bibles and cars - often at the same time. He decided to enroll in college courses again, and over time he became a certified Chamber of Commerce Manager.

The family moved to Neosho, Missouri when Don was offered the position of chamber manager there, but six months later tragedy struck: Joy died of a brain aneurysm, leaving Don with four children under 10 years old. With much support from family, friends, and community, the family worked to recover. Over the next few years some or all of the kids spent weeks and even whole summers in Muleshoe with grandparents and aunts, uncles, and cousins - the C.A. Barnetts, the Richard and Barbara Puckett family, and the Charles and Diana Stewart family. There they participated in Little League, Boy Scouts, and other activities. Sometimes the kids stayed with Joy's sister and her family, Marita and Joe Wood, in Illinois.

In 1962 Don married Carolyn Sweet of Neosho, who instantly became a wife and a mother to four kids. After four years in Neosho the family moved to Great Bend, Kansas, then in 1966 to Hanford, California, where Don became the executive director of the Kings County Economic Development Commission.

Don's strong work ethic helped him to be successful in all his jobs. He helped create many well-paying jobs by recruiting industries to move manufacturing plants to the areas where he worked, and by helping existing businesses expand. After retiring from Kings County, Don became a real estate broker, focusing on industrial and commercial properties.

Don was first a deacon and then an elder in the Church of Christ, and was known as someone who went above and beyond to help those in need. He was a dedicated family man who encouraged his kids to do the best they could at whatever they chose to pursue in life. While living in Hanford, Don helped launch Valley Christian Home and Western Christian School to help both the elderly and the young.

He also became interested in the missionary work the Church of Christ was conducting in Ghana, West Africa. He and Carolyn traveled to Ghana to see the need first-hand, and subsequently funded several dormitory-style houses for orphans at the Village of Hope. He also has supported Ghana West Africa Missions in drilling much-needed water wells.

In July 2004, Carolyn succumbed to cancer. A year later Don married Marita McKnight Wood, Joy's sister, who had suffered the loss of her spouse, Joe, a few years earlier. Don and Marita moved to Edmond, Oklahoma where both had children living nearby, and enjoyed 16 happy years traveling, spending time with friends and family, and quiet times together before his passing.

Don is survived by his wife Marita; his sister Diana; his four children; 10 grandchildren; 19 great-grandchildren; and several nieces and nephews and their progeny. His ashes will be interred at a family plot in Neosho, Missouri in August.

Those who wish to honor Don's memory are invited to help his family drill a water well in his honor in Ghana, West Africa. More information and a link to donate can be found at www.gwam.org/don-barnett-legacy-well-fundraiser.
LINKS
Hearst West Texas Call Center

Muleshoe Journal
http://www.muleshoejournal.com