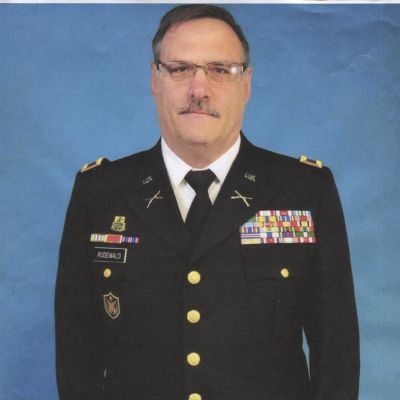 Don
Rodewald
Help us celebrate Don! Please share your stories and photos, and invite others who remember Don.
Donald "Don" Rodewald, 62 year old resident of Little Falls, MN, passed away on Sunday, October 17, 2021 at his home. A funeral service will be held at 11:00 A.M. on Friday, October 29, 2021 at the Camp Ripley Chapel inside the main gates of Camp Ripley with Father David Maciej officiating. A visitation will be held from 4-8 P.M. on Thursday at the Shelley Funeral Chapel in Little Falls, MN and from 10-11 A.M. on Friday at the Camp Ripley Chapel. Burial will take place at 2:00 P.M. on Tuesday, November 2, 2021 at the Minnesota State Veterans Cemetery north of Little Falls, MN. Caring for Don and his family is the Shelley Funeral Chapel of Little Falls, MN.

Don was born on July 13,1959 in New Ulm, MN, the son of Marlin H. Rodewald and Mary Ann (Sellner) Rodewald. He married Lois M. Veit in New Ulm, MN, on July 14,1979 and raised two sons and a daughter. Don graduated New Ulm Senior High School in 1978. On November 10,1978 he enlisted in the United States Air Force, and attended the basic training and technical school as a Security Police at Lacklund A.F.B, TX. During the period of March 1979 to March 1982, he completed a long tour at Spandahlem Air Base in West Germany. He completed his final duty and honorably discharged at March A.F.B., CA, in November 1982 and moved his family back to New Ulm, MN. In February 1983, Don joined the 1st Battalion, 125th Field Artillery, Minnesota Army National Guard as a traditional soldier. In January 1984, he was hired as a full-time Battalion Legal Specialist. In January 1987, Don served as the full-time Battalion Military Personnel Technician, while also attending the Minnesota Military Academy Officer Candidate School. Don was commissioned in September 1988, as a Second Lieutenant Field Artillery Officer and was transferred serving as the full-time Operations Officer with the Minnesota Military Academy at Camp Ripley, MN. In January 1993, he transferred to the 1st Battalion, 194th Infantry in Brainerd, MN. For the next seven years, he served in numerous positions as Training Officer, Officer-in-Charge, Company Commander, and Battalion Executive Officer. In addition to working full-time, he attended night school at St. Cloud State University and graduated with a Bachelors Degree. In October 2000, he transferred back to Camp Ripley and served in numerous full-time positions as Range Control Officer, Construction Engineer Officer, Purchasing and Contracting Division Chief, and Vehicle Maintenance Superintendent of the Consolidated Vehicle Maintenance Activity. From February 2009 through March 2010, while serving as Commander of the 1903rd Senior Acquisition Team, he deployed his team in support of Operation Iraqi Freedom, serving in the Chief of Iraq Contracting Operations Officer in the Headquarters Joint Contracting Command-lraq. He flawlessly planned and executed "Money as a Weapon System" strategy in direct support of three Combat Divisions, earning the Defense Meritorious Service Medal and the Joint Service Commendation Medal. In July 2015, Don was promoted to rank of Colonel and transferred to the United States Army Reserve Control Group. In October, 2018, he was transferred to the Army United States Retired List. He was credited with serving 39 years, 11 months, and 4 days of military service to his country. Don enjoyed motorcycle riding with his wife Lois and spending time with his eight grandchildren. He also enjoyed his hobby of auto body repair. He is a life-time member of the Disabled American Veterans.

Don is survived by his wife, Lois of 42 years; two sons, Eric (Pamela) Rodewald of Courtland, MN, Kyle (Brianna) Rodewald of Little Falls, MN; daughter, Raina (Mitchell) Vetsch of Albany, MN; siblings, Ronald (Joyce) Rodewald of New Ulm, MN, Gary Rodewald of New Ulm, MN, Keith (Gina) Rodewald of Lakeville, MN, Pam (Joe) Simon of Redwood Falls, MN and Janell (Glenn) Brown of Rogers, MN and grandchildren, Mallory Rodewald, Ashlyn Rodewald, Autumn Rodewald, Natalie Rodewald, Elena Rodewald, Aubree Vetsch, Lilly Ann Vetsch, and Rilley Vetsch.

Don was preceded in death by his parents, Marlin and Mary Ann Rodewald.
LINKS
Shelley Funeral Chapel Little Falls
http://shelleyfuneralchapels.com
The Journal
http://www.nujournal.com