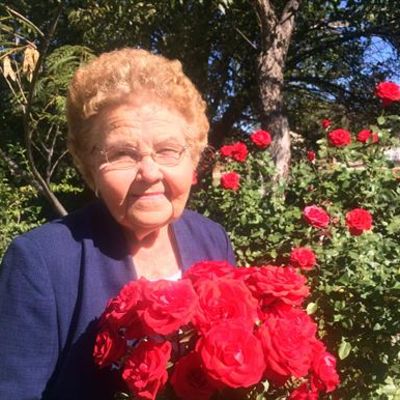 Dolores
Barnett
How do you know Dolores ? Please share your stories and photos, and help spread the word about this page!
Dolores Geneva Michalk Barnett, 86, of Albany and formerly of Bishop, passed away peacefully at home on Friday, January 4, 2019. She was born on May 30, 1932, in Bishop, to Alvin and Ernie Michalk.

Dolores married Melvin Urban on August 21, 1949, and together they had 3 children; daughters Brenda Urban Picquet and Debbie Urban Prince, and son Larry Urban. After Melvin's death in 1962, she married James H. (Bill) Barnett on February 18, 1966. They were happily married for 29 years before he passed away in 1995. Dolores lived in the Bishop-Kingsville area all of her life until moving to Albany in 2008.

During her lifetime, Dolores was an active and faithful member of the Lutheran church, both in Kingsville and in Albany. She had a passion for her flower gardens and is well-remembered for her beautiful yards and her ability to grow anything and everything. She also had a knack for telling the stories of memories long since passed and enjoyed sharing those treasured recollections with her loved ones. Many will say her most notable characteristics were her steadfast Christian faith, strength, humor, nurturing and kind heart, and sweet and gentle spirit. No matter what was going on in her life, she always wore a warm smile and had a twinkle in her eye.

Dolores was preceded in death by her parents, husbands, sister, Verna Mae Hopstetter, and granddaughter, Dawn Urban.

She is survived by her brother, Odis Michalk, and his wife, Janice, of Kingsville, daughter Brenda Picquet and husband Glenn of Albany, daughter Debbie Prince and husband Dallas of Llano, and son Larry Urban and wife Shirley of Austin. She is also survived by 7 grandchildren and 10 great-grandchildren: Blake Picquet and wife Natalie of Kailua, Hawaii (Paige and Landon), Michelle Helle and husband Trey of Houston (Lane and Georgia), Robin Balliew and husband Sam of Albany (Ayden and Griffin), Marshall Prince and wife Venessa of Austin (Tristan, Katie, and Travis), Kim Prince of San Antonio, Deana Rich of Midland (Charlotte), and Josh Urban of Austin. She is also survived by numerous nieces and nephews.

Visitation will be held at Turcotte-Piper Mortuary in Kingsville, TX on Friday, January 18, 2019, from 5 to 8pm. Funeral services will be Saturday, January 19, 2019, at 11 am, at St. Paul Lutheran Church in Kingsville, TX, with an interment to follow at Chamberlain Cemetery. There will be a memorial service at Trinity Lutheran Church in Albany, TX on Saturday, February 2, 2019 at 2pm.

The family would like to express their deepest gratitude to the staff at Kindred Health Care and Hospice Care, Clear Path Home Care, Dr. Swarna and the staff at Cardiology Consultants, Dr. Walia of Hendricks Nephrology, as well as those individual caretakers who all spent time with and cared for Dolores during this last year. Their unwavering support and care have been a tremendous blessing and we give our heartfelt thanks to all.

Memorials may be sent to Trinity Lutheran Church at P.O. Box 2255 Albany, TX 76430 or St. Paul Lutheran Church at 521 E Doddridge Ave, Kingsville, TX 78363, or to a charity of your choice.

Services are entrusted to Turcotte-Piper Mortuary, 205 General Cavazos Blvd., Kingsville, Texas 78363, www.turcottepipermortuary.com.


LINKS

Abilene Reporter-News
http://reporternews.com