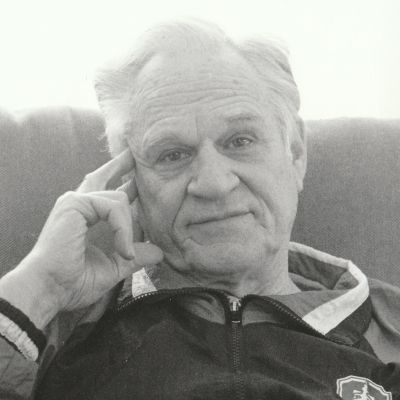 David
William
Salmon
Loving father and grandfather, political scientist, and educator. Inquisitive mind, ever-present humor, and "a friend to man."
David William Salmon (age 92) died at his home on 7 October 2011.

He was born 30 November 1918 to William James and Olive Gertrude Gay Salmon. David grew up in Salt Lake City and went to South High School. He then attended Stanford University, where he received his AB, MA, and PhD in political science.

After obtaining his PhD, David moved his family to St. Louis to teach political science at Washington University. He then worked as Research Director for the Central Conference of Teamsters, later in the same position with the Western Conference of Teamsters in the San Francisco Bay Area.

He met Louise Marie Linton in the Stanford Ward, where she fell in love with him at "first listen." They were married in the Mesa, Arizona Temple on 15 June 1943. They have loved each other through all that life has thrown at them for over sixty-eight years of marriage.

They are the parents of four children: Louise Anne (Joel Graham), David Christopher (Susan), William James (Vicki), and Linton Gay (Lisa); ten grandchildren; and eleven great-grandchildren. They welcomed three sisters into their home to provide them with better educational opportunities. All three of them have become as daughters to them: Elizabeth Hill Bruce, Dorothy Hill Yancey, and Jennie Hill Cobb.

David devoted himself to his family and they brought him his greatest joy. David is remembered for the depth of his thought and for prodding other people to think, but also for his gentle and ever-present humor. He was a devoted member of the LDS Church his entire life, a follower of Christ, opening his home and heart to many. He showed compassion and love to all, "a friend to man," and took delight in all kinds of people.

David was preceded in death by his parents; brothers, Jack and Bob; and sister, Margaret. He is survived by his sister, Mary Jean Faulk; his wife; and children.

Funeral services will be held on Friday, October 14, 2011 at 10:00 a.m. in the Timpview LDS Chapel, 2900 Timpview Drive (2900 North 650 East), Provo. There will a viewing held at the chapel before the funeral from 9:00-9:45 a.m. Interment will be in the Ogden City Cemetery, 1875 Monroe Boulevard, Ogden.

Published in the Salt Lake Tribune from October 12 to October 13, 2011.
LINKS
Premier Funeral Services
http://www.premierfuneral.com/
Salt Lake Tribune
http://www.sltrib.com