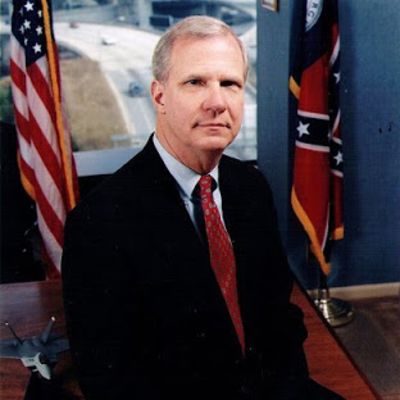 David
Bryan
Poythress
David graduated from Lanier High School for Boys in 1961. Share your stories and photos here, & invite others to come share their memories.
Atlanta, GA- Lt. Gen. (Ret.) David Bryan Poythress, of Atlanta, passed away on January 15, 2017. Poythress served our nation with distinction in many capacities including serving as Georgia Secretary of State, Labor Commissioner and Adjutant General – the commander of the Georgia Army and Air National Guard.

Born in Macon on October 24, 1943, Poythress attended Bibb County public schools and played football at Lanier High for Boys. His father, John Maynor Poythress, worked for the city water department, his mother, Dorothy Bayne Poythress, was a special needs school teacher, and they were founding members of Riverside Methodist Church in Macon.

Poythress attended Emory at Oxford, and earned his degree and his commission as an US Air Force officer at Emory University, where he earned his law degree. A life-long servant leader, his career has included public service, military service, and private law practice.

Poythress served four years on active duty in the U.S. Air Force as a judge advocate officer. He volunteered for duty in Vietnam and continued his military service in the Air Force Reserve, attaining the rank of Brigadier General before retiring in 1998. He returned to active duty during operations Desert Shield and Desert Storm.

Poythress practiced law in Atlanta and held several positions in Georgia state government, including Assistant Attorney General, Deputy State Revenue Commissioner and Secretary of State. In 1992 he was elected statewide to the office of State Labor Commissioner and was re-elected in 1994. He was a candidate for Governor of Georgia in 1998 and 2010.

In 1999, Poythress was appointed Adjutant General of the Georgia National Guard and promoted to Major General. He was reappointed in 2002 and promoted to Lieutenant General - the first Adjutant General in Georgia history to wear three stars. Poythress had overall responsibility for two brigade level deployments to Bosnia (2000) and Iraq (2005). In addition to leading Guard members in first response to Hurricane Katrina, he also served on the GA Homeland Security Task Force from 2001 until his second military retirement in 2007.

Poythress served as Vice Chairman of the Board of the National Guard Assn of the US and was a member of the Board of Directors of Jobs for America's Graduates. He served two terms as Chairman of the Board of the State YMCA of Ga and served on the boards of Common Cause GA, Wesley Homes and the Atlanta Day Shelter for Women. He was a Rotarian, a Mason and member of American Legion, Veterans of Foreign Wars, USO, Sigma Chi Fraternity and Peachtree Road United Methodist Church.

He passed away at Duke University Hospital where he was seeking treatment for a lung condition. A memorial celebration will be held on Saturday, March 25th, 2017. Details can be found at https://atinyurl.com/DavidPoythress. RSVP requested for attendance. Donations may be made to the State YMCA of Georgia (ymcaga.org/donate) or the Georgia National Guard Family Support Foundation (georgiaguardfamily.org/donate).

Poythress was predeceased by his parents and brother John Maynard Poythress, Jr. and is survived by wife Elizabeth, sister Eva Higgins, son Cullen Gray Poythress, stepdaughters Candace Pinnisi (John), Kristin Placito (Frank), eight grandchildren and one great grandchild.
LINKS

Find A Grave
https://www.findagrave.com/memorial/175383578