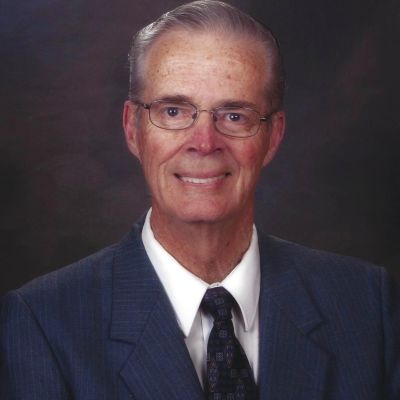 David
LaMar
Goodworth
Did you know David? Please share your stories and photos, and help spread the word about this page!
David LaMar Goodworth, 82, of Blackfoot, Idaho, peacefully returned to his heavenly home on Monday, October 4, 2021, with his wife of 60 years, Marilyn Veibell Goodworth, at his side. The family gathered the night before to surround his bed and offer a prayer and blessing of release.

David was born of goodly parents in Kamas, Utah on June 24, 1939, to Richard V. and Elena A Jensen Goodworth. He was the 2nd of their nine children.The love felt from his parents made it easy for him to believe in a loving Heavenly Father and merciful Lord.

At age 7, David contracted polio and spent three months without family in a Salt Lake City hospital. David hated bed confinement and inactivity and promised his Father in Heaven that he would never be idle again if He would let him go home.David kept that promise and led a life of good works, activity, and obedience.

While in his youth, David gained a great love and appreciation for nature, the outdoors, and the high country. He spent many hours in the beautiful mountains near his home with his father, who was the superintendent of the State Fish Hatchery. David's youth was filled with frequent trips with his dad to stock fish, or go camping, fishing, hunting, or hiking in the high country. These experiences instilled in David a love for God's creations.

David attended South Summit High School, a rival to Wasatch, where Marilyn attended. She knew him as a scholar, a star athlete, and an excellent musician. He played the French horn and had a beautiful singing voice that blessed many choirs for years to come. But it was David's kindness and compassion that touched Marilyn's heart.

David graduated high school as Valedictorian and joined the Army Reserve before attending the University of Utah. A year and a half later, David was called as a missionary for the Church of Jesus Christ of Latter-Day Saints to the Central States Mission where he served in Oklahoma and East St. Louis, Illinois.

When David returned from his mission, Marilyn was conveniently living with his sister, JoAnn. As fall classes began, his Army Reserve unit was activated for the Berlin Crisis.During his orientation at Fort Douglas, he courted Marilyn and the Spirit spoke.He returned on furlough from Fort Lewis, Washington to be married in the Salt Lake Temple on December 20, 1961. They enjoyed an 8-month honeymoon at Uncle Sam's expense!David said the smartest thing he ever did was to marry Marilyn.

As David completed his schooling, the family grew rapidly. He returned to the University of Utah, and in 1966 completed his bachelor's degree in chemical engineering. He then moved his family to Blackfoot, Idaho where he began his career at American Potato Company. Six years later he received his MBA from Idaho State University. The household continued to grow, and in 1980 they moved to Rose, Idaho, where their 10th and final child was born.

As patriarch of the home, David set the ultimate example. He was strong, energetic, determined, quick witted and duty bound. Raising the family included plenty of hard work...gardening, berry and apple picking, canning, sewing, lawn mowing, pipe moving, cooking, and caring for babies. However, the family also enjoyed music, sports, and dancing. Frequent parties, sing-a-longs, and firesides added to the fun. David and his family were often found in the hills, camping, hunting, fishing, and basking in the beauty of God's creations. David had an artist's eye and in his later years developed his talents in many areas, focusing much of his artistic ability through photography.

David was a loyal career man. He spent 36 years applying his education to research and development, plant start-up, implementing programs, writing manuals, and teaching/training for American Potato Company, now known as Basic American Foods. His attention to detail and tireless work ethic made him a great asset in the business world.

Service was a driving force throughout David's life. He was an example and role model in his various callings which included teacher, scoutmaster, ward clerk, stake clerk, and counselor in various bishoprics. In recognition of his years of service in scouting, David proudly received his Silver Beaver Award in 2010 from the Boy Scouts of America. All 8 of his sons received their Eagle Scout Award and served missions for The Church of Jesus Christ of Latter-Day Saints, but David always attributed that success to Marilyn.

In 2004-2005, David and Marilyn served as Family and Church History Missionaries in Salt Lake City for The Church of Jesus Christ of Latter-Day Saints where David's work ethic and teaching and organizational skills were relied on to solve problems and bless those around him.

David was a man of God. He was not casual in spiritual matters and chose to live a consecrated life. David followed Elder Maxwell's counsel to "grow as we are stretched...to try to become like Jesus...to partake of life's bitter cup without becoming bitter." Elder Maxwell had a profound effect on David and Marilyn, as he was David's Sunday school teacher and Marilyn's bishop at the University of Utah. David's life was a reflection of his relationship with God. His testimony was firm, he was loyal to his covenants, he embraced wholehearted obedience, and he showed goodness and compassion in all he did.

David is survived by his wife, Marilyn Veibell Goodworth and his siblings, (Carolyn Ford), JoAnn (Ted) Crittenden, Louise Young, Carol (Jack) Larsen, Marie Richins, Susan (Richard) Brady, Rex Goodworth, and Glen (LoAnn) Goodworth. He is also survived by his children, Ken (Ada) Goodworth, Dean (Michelle) Goodworth, Fred (Cherilynn) Goodworth, Kathy (Rex) Carter, Wayne (Noell) Goodworth, Clark (Kari) Goodworth, Tim (Heather) Goodworth, Greg (Sherilynn) Goodworth, Becky (Jason) Arnold, Clint (Kim) Goodworth, as well as 59 grandchildren and 49 great-grandchildren.

David was preceded in death by his parents, Richard and Elena Goodworth, his brother, Richard Goodworth, brothers-in-law LaMar Richins and Wayne Young, sister-in-law Vikki Goodworth and his granddaughter, Gracie Goodworth.

The family will host two viewings. The first will be from 5-7:00 p.m. on Sunday, October 17, 2021, at the Hawker Funeral Home, 132 South Shilling Ave. in Blackfoot. The second viewing will be held on Monday, October 18th at the Blackfoot Stake Center at 1650 Highland Drive from 10-11:30 a.m. prior to the funeral.

Funeral services for David Goodworth will be held at 12:00 p.m. on Monday, October 18th at the Blackfoot Stake Center at 1650 Highland Drive in Blackfoot, ID.

The family would like to thank the many people who helped care for David in his home during his years of dementia and declining health.

Condolences to the family can be shared at www.hawkerfuneralhome.com.
LINKS


Bingham County Chronicle
http://www.journalnet.com