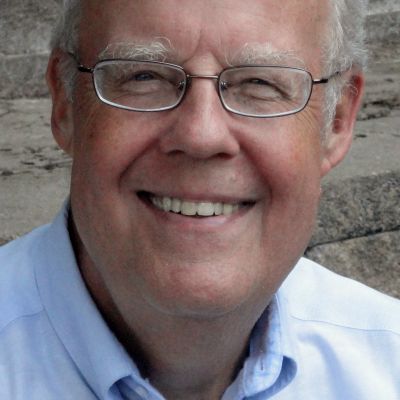 Dale
Roy
Anderson
Join us in celebrating Dale—please share your stories, memories and photos.
Dale Roy Anderson — who was an extraordinary light in the lives of his beloved family and many close friends — died peacefully in Saline, Michigan, after several years of living with dementia. He was an investment professional with Giverny Capital Advisors in Princeton, New Jersey. Dale was buried on a hill in his favorite town, Williamstown, Massachusetts, near Williams College, where he was a 1965 graduate and lifelong "Eph."

Dale, who was 78, defined himself as father and grandfather, partner, teacher and friend. He was a joyful, loving presence in the lives of his four daughters — Ariel Moore, Laura "Lucky" Anderson, Caroline "Chicky" Huy and Emily Eldridge Hall — and his partner, Jane Hall, as well as their children and spouses, Eric Moore and Gabriel Moore; Sandor Toth, Eva Toth, Scarlet Toth, Laszlo Toth and Agoston Toth; and Philipp Huy, Anna Huy, Ella Huy, Tessa Huy and Peter Huy. He is also survived by his sister, Archielle "Ardy" Jones, and her husband, Robert Jones; his former wife, Margaret (Meacham) Anderson; and five nieces and nephews, Lynley Honkanen, Allison Jones, Eric Meacham, Megan Meacham, and Martha Meacham, with his niece Katy Meacham predeceased.

Dale was cherished also by Jane's sisters and Texas family and by his many friends in Princeton and Washington, D.C. Dale was the champion of his family and all the people he loved, supporting them and celebrating them uncritically and poetically, with truly unconditional love. "I'm not a person who has a hidden agenda that I want you to become someone other than you really are," he wrote in one letter. "Fidelity, freely given," he wrote in another, "is at the heart of love."

Williams professors stoked Dale's lifelong love for literature; and, after attending the Williams program in Hong Kong and Union Theological Seminary in New York, he taught English at Hunter College High School and Village Community School in New York City. He later became a stock broker at Merrill Lynch, Morgan Stanley and other Wall Street firms before joining Steginsky Capital and, later, Giverny Capital Advisors in Princeton. He was with Giverny Capital Advisors from 2013 to 2018, employing Shakespeare, poet Wallace Stevens and other poets and artists as well as his investment and financial skills in his work.

Even when he was ill and diminished by dementia, Dale's loving spirit never died. He wrote to his family in 2019, "I love you all with the ache of absence that I hope a dream tonight will cure." He will be deeply missed.

We love you forever, dearest Dale.



Condolences and memories of Dale are welcomed at https://www.weremember.com/dale-anderson/4l0y/memories.

Donations in memory of Dale can be made to Williams College at https://www.givecampus.com/campaigns/17079/donations/new.


LINKS
Please make donations to Williams College in memory of Dale Anderson
https://www.givecampus.com/campaigns/17079/donations/new