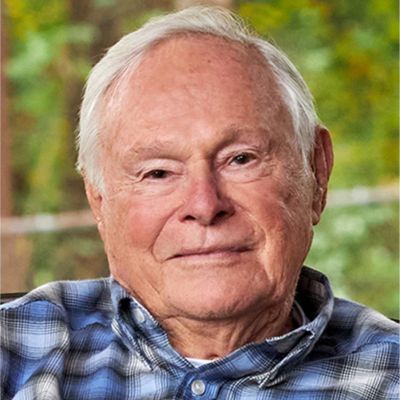 Clifford
Mitchel
Rowland
Did you know Clifford? Please share your stories and photos, and help spread the word about this page!
Clifford "Cliff" Mitchel Rowland, Jr. was born on January 20, 1932, in San Angelo, Texas to Gladys and Clifford Rowland, Sr. He grew up hunting, fishing, horseback riding, and working the cotton fields on the West Texas farm of his beloved Uncle Royal and Aunt Thelma. He developed a strong work ethic in those fields that carried him through life. "Don't ask someone to do something you wouldn't do yourself", a motto he lived by and instilled in his four children.

Cliff was known for his West Texas drawl, love of silence, and his dry mischievous sense of humor. He was athletic. After playing football and basketball at San Angelo High, he went on to play both sports at Harden Simmons University and Angelo State. His education was put on hold to serve his country in the Korean War. He served in the US Army with the Forward Observation Battalion from 1953-1954. He liked to joke that the food was so bad in the army he survived on Butterfingers. Upon his discharge, Cliff attended and graduated from the University of Texas with a Business Degree in 1957. Prior to graduation, he met and married his first wife Joan Marie Warner in 1956. After graduation he took a job with National Supply, an oilfield services company. He was known and respected for his no nonsense leadership in various management roles throughout his 28-year career. Soon after starting his job, Cliff became a father. Cliff's successful career involved many moves for his family. He and Joan had four children in six years! Cliff retired from National Supply in 1985.

Cliff met and married his second wife Kathleen McNemar in 1985. Together their blended family included Cliff's four children as well as Kathleen's two children. Cliff and Kathleen traveled extensively throughout his long retirement. They enjoyed spending time with their Corinthian Point neighbors as well as all the friends they made through the years. He enjoyed playing tennis, poker, and was an avid fisherman. He could be taking a nap and if you said, "Let's go fish" he was at the door with his pole. He was a dog lover and had many throughout his life including his constant companion in later years, Shadow.

His parents, Gladys and Clifford Sr.; his Uncle Royal and Aunt Thelma; as well as his wife Kathleen Rowland preceded Clifford in death.

He is survived by his four children, Jennifer Rowland; Jill Smead and husband Sam; Clifford M. "Jack" Rowland III and Paloma Perez; Matt Rowland and wife Christy and six grandchildren, Meghan Stinson and husband Tim; Samantha Harris and husband Jason, Sam Smead, Jr.; Kirk Rowland; Zachary Rowland and wife Caitlin; Carter Rowland. He was blessed with five great grandchildren: Brynnili, Braydon, and Bryce Stinson, Tripp Teel, and Axel Harris. He is also survived by Kathleen's children, Jennifer Hobbs and husband Robbie; Jennifer's children, Sally Kate Morse and husband Brandon and Andrew Humphries. Andy McNemar and sons, Collin, Grayson, Reid, and Noah McNemar.

Clifford was a great friend, husband, and father; he will be greatly missed. Funeral services for Clifford will be at McNutt Funeral Home in Conroe Texas 1703 Porter Rd, Conroe, TX 77301 on Oct 1st at 10:00 in the morning.
LINKS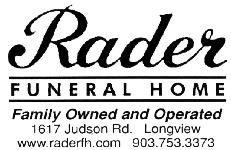 Rader Funeral Home -Longview
http://www.tombolls.com
Houston Chronicle
http://www.houstonchronicle.com