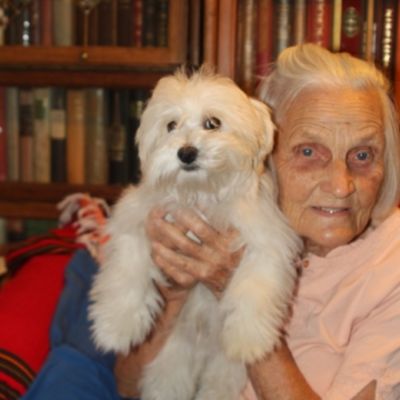 Cleo
Delaney
Cleo was an artist, gardener, dog-lover, writer, well-read, wonderful conversationalist, genealogist, traveler, hiker, dancer, psychiatric nurse and Good Samaritan. As the mother of 6 children and grandmother of 6, she listened, guided and loved.
Cleo Delight (Best) Delaney was born in Scottsbluff, Nebraska, on November 19, 1924, to George and Nettie Best. She succumbed to cancer on August 15, 2018, at her home in Redmond, Oregon.

At the age of seventeen, Cleo left home to become a typist in Washington, D.C. She ended up attending nursing school at the Gallinger Hospital and became a nurse in the Navy. As her career grew in the field of psychiatric nursing, she later worked at the Monroe State Penitentiary, Harborview Hospital, and in private practice.

Cleo met and married Robert Joseph Delaney in 1953 and she raised six children as the family followed his career to different locations. They finally settled in Washington state in 1962. She divorced him in 1974 and moved to the Laurelhurst neighborhood in Seattle.

After the divorce, Cleo proceeded to travel the world with her friends and children by her side. She remained very close with friends she made in Ireland and Belize.

Cleo was an artist, gardener, hiker, traveler, dog-lover, writer, fine book-collector, reader, dancer and big-band music enthusiast, genealogist, psychologist, theologian, Good Samaritan, meditator, au courant in world news and a wonderful conversationalist.

Cleo was the second eldest of seven children and was truly a delight to all her children and grandchildren, as well as those who befriended her over her lifetime. She is survived by her brother, Ralph; her sister, Madeline; her half-brother, Marvin; her adult children, Mary Manix (and husband Paul Manix), Teresa Delaney (and husband Steven Eklund), Edward Delaney, Charles Delaney, Roberta Delaney (and husband Dan Petegorsky), Moira Delaney (and husband Marvin Theimer); and grandchildren, Mike Eklund, Ann Delaney, Nick Lee, Grace Petegorsky, Annika van Leynseele, and Liam van Leynseele.

Donations in honor of Cleo Delight Delaney may be made to Partners in Care Hospice of Bend, OR, or Brightside Animal Shelter, of Redmond, OR. Baird Funeral Home is handling arrangements.