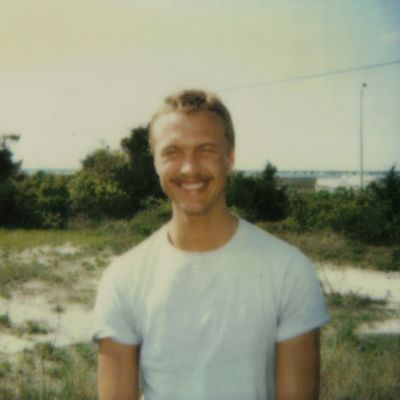 Clay
St. John
Brother, Uncle, Friend and Artist
Clayton ("Clay") St. John, 58, of New York City, died January 1, 2019 at his home in the East Village after a brave battle with pancreatic cancer. Brother, uncle, friend, and artist, he was born October 24, 1960 to Clayton Eugene St. John and Helen Misiewicz at South Hampton hospital in South Hampton, NY, and grew up in Quogue, NY.

Clay moved to New York City to attend The School of Visual Arts (1978-1980) and Parsons School of Graphic Design (1980-1982). He worked for J. Fields Gallery in New York City, Hudson Paper Conservation, and M + W Graphics and was an expert artisan in the field of paper and poster preservation.

His skills as an artist were demonstrated in his great care and attention to detail in conservation work. He specialized in preserving film, paper, and restoring advertising posters for galleries, auctions and private collectors.

He resided in his East Village apartment on East 7th Street between 1st and 2nd Avenues for nearly 30 years, with his beloved cats Johnny and Nicki. In addition to his career reconstructing and repairing vintage posters, he also bought and sold other collectibles and antiques, including rare books, magazines and oil lamps.

Clay loved enjoying great food and wine, as well as the culture of New York City's East Village, frequenting some of his favorite and iconic local restaurants with friends, such as Café Mogador, Veselka, Café Orlin, Yaffa Café, and Paul's Palace. He enjoyed playing on the Gotham Volleyball league, was an active member of his tenant's association, and loved city nightlife.

As a young gay man living in New York City in the 1980's, a time when gays were still marginalized, Clay bravely marched alongside his gay bothers and sisters in historic, early Gay Pride Parades. He also selflessly volunteered his time answering phones at GMHC's HIV/AIDS Hotline to provide emotional support with compassion and without judgment for those in need.

Clay loved to laugh and was often smiling. He was creative and imaginative, sensitive and sympathetic to others.

Clay faced his terminal illness with strength and dignity. He chose to keep his diagnosis to himself, not only because he valued his privacy, but as a final act of love to those who might find it too painful to bear.

His family and friends are devastated by his absence. He will be remembered as loving and loyal, brave, funny, thoughtful, an artist, and a tried and true New Yorker.

Clay is survived by sisters Nancy St. John of Westhampton Beach, NY, and Daria Colon of North Providence, RI, and brother Dennis St. John of Cocoa, FL, as well as nieces and nephews, and friends who will miss him dearly.

In remembrance of Clay there will be a memorial service at Middle Collegiate Church at 50 East 7th Street, New York, NY, on Saturday, March 16, 2019, between 1pm and 3 pm.
Memories
Looks like something went wrong.
Reload the page and try again.