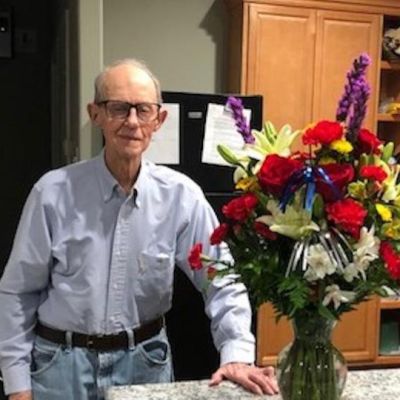 Clark
B.
Smith
Help us celebrate Clark! Please share your stories and photos, and invite others who remember Clark.
Clark Barclay Smith of Sour Lake, formerly Kirbyville, passed away peacefully on May 9th. Clark was born on May 11th 1929 in Magnolia Springs, Texas to Elisha Washington and Mary Ethel Smith. He attended Kirbyville High School and graduated from Texas A&M in May 1951. Clark married Louise Ware from Bleakwood, Texas in December 1951. They shared almost 60 years of love and support until her passing in 2010. Called to active duty in 1952, he served 2 years as a First Lieutenant in the US Army's 6th Armored Cavalry Regiment in Regensburg, Germany. Upon release from active duty, he returned to Kirbyville to run the family dairy and farming operations.

Clark, elected to board of Jasper Newton Electric Cooperative in 1959, continued to serve in various leadership roles including Office Manager, Assistant General Manager, and Acting General Manager over the next 37 years. During his career, he received a Master's in Business Administration from Lamar University in 1971.Upon his retirement in 1996, he focused energy on farming and timber management.

During his career, Clark was an active member of the Kirbyville community serving roles with the Kirbyville Chamber, Library Board, and as a Trustee of Kirbyville Consolidated School District. He and Louise were founding members of Central Baptist Church and served the Lord many years as Deacon and Sunday School teachers.

Clark and Louise moved to Sour Lake in 2000 to be near Suzanne and her family. They continued to serve the community, especially the less fortunate. They were active members of Sour Lake Baptist Church and served as Deacon and teachers. In his later years, Clark treasured his friendships in the Senior Men's Sunday School Class. A loyal Texas Aggie, He and Louise were tireless supporters of the Corps of Cadets and Aggie Band.

Clark was a patient, loving father whose wisdom increased with his age. Nothing made him happier than spending time with his family. He is survived by his daughter Suzanne Reviere and her husband Steve and son Stephen Barclay Smith and wife Kay. He had four grandchildren, Alexandra Smith, Timothy Reviere, Jonathan Reviere, and Christopher Reviere. Numerous nieces and nephews also cherish his memory.

Funeral services will be 10:00 a.m., Friday, May 13, 2022, at First Baptist Church of Sour Lake. Officiating will be Reverend Ken Ellzey. Burial will follow at 1:00 p.m., Friday, at Magnolia Springs Cemetery in Kirbyville.

Visitation will beging at 9:00 a.m., Friday, at First Baptist Church in Sour Lake.

Serving as pallbearers will be Wayne Davis, Tommy Smith, Craig Ware, Tim Reviere, Jon Reviere, and Bernard Ware. Honorary pallbearers will be Robert Couch, Milton Herrington, and the Senior Adult Men Sunday School Class at First Baptist Church of Sour Lake.

In lieu of flowers, you may donate to the First Baptist Church of Sour Lake in his memory.
LINKS


Beaumont Enterprise
http://www.beaumontenterprise.com