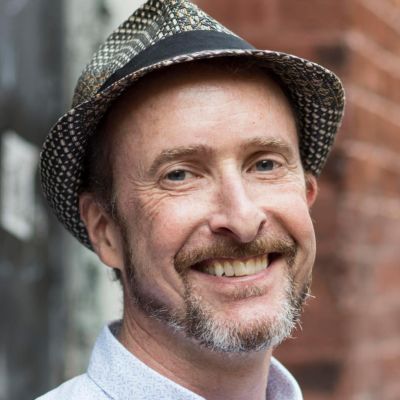 Christopher
Clark
Join us in celebrating Christopher—please share your stories and photos, and help spread the word about this page!
Christopher "Chris" J. Clark, 57, of Salem and formerly Marblehead, was a bright light? brilliant, kind, generous, and fun. Chris passed away unexpectedly from a heart attack Saturday, November 28, 2020.

Born in Greenfield, MA, Chris' first home was the cherry house on his family's orchard in Deerfield, Clarkdale Fruit Farms. Later, he was raised in Newton and Marblehead.

As a child, Chris discovered a book about technical drawing and was never the same. From a career in architecture at Graham Gund and a position as CAD Manager at Rothman Partners Architects, Chris shifted his insatiable curiosity toward developing a career in graphic design. Chris owned and operated his design firm, Cave Dog Studio, for 19 years, before joining agency Tessellati/Intead as Creative Director, where he made clients and colleagues look good, listen to better music, and laugh until they cried. A dedicated and kind mentor, Chris inspired both goodness and good work in those who gathered around him.

Chris was a hot sauce enthusiast, beer and cider aficionado, wearer of cool hats and a selfless, creative, caring presence. He devoured documentaries and was a political news junkie. He never failed to tip well, no matter what was in his wallet.

Active in Community Theater, Chris contributed to several productions with Marblehead and Salem theatre groups. He always gave extra: acting, building sets, designing show posters, staying late. His passion for the work and dedication to the cast endeared him to many. As in a recent performance of "To Kill A Mockingbird," Chris was?ironically? often cast as the "hard man." His success in these roles demonstrated his commitment to character that was consistent in all his pursuits. He once rushed to his injured daughter in the emergency room wearing full pirate costume.

Chris showed stunning mastery of and infectious enthusiasm for things he loved to do?whether sailing, woodworking, letterpress printing, road and mountain biking, or perfecting his pickle recipe. He delighted in making and fixing things, leaving everywhere evidence of his caring.

Whether toting his twins around town, one on each arm, or later celebrating their unique accomplishments in theater, filmmaking, art and design, Chris was devoted to his family and felt a profound connection to the places where he witnessed milestones and made memories, such as the Deerfield farm, gatherings at his mother's family home in Shelburne Falls, or family house at Spofford Lake, built and enjoyed by generations of Clarks. He treasured his grandfather's woodworking tools and wood from his land.

Chris was preceded in death by his mother, Joan (Crocker) Bavaria. In addition to his wife Joyce, with whom he shared 25 years of marriage, Chris is survived by his children, Lily Clark and Aubrey Clark, all of Salem, his father and step-mother, Frederick and Janice Clark of Greenfield, MA, his brother, Colin Clark of Salem (who consistently beat him at darts), and many beloved aunts, uncles, cousins, and friends who are determined to keep his light shining, even in his absence.

ARRANGMENTS: A Celebration of life will be held and announced at a later date. Assisting the family with the arrangements is O'Donnell - Cremations - Funerals - Celebrations, 84 Washington Sq. (at Salem Common) Salem. Expressions of sympathy may be made in Chris' memory to Marblehead Little Theatre Group Spoon River Anthology, 12 School St., Marblehead, MA 01945 or at mltlive.org. Sharing written remembrances and condolences, during this time will be essential in helping Chris' family reminisce, celebrate, and heal. We encourage you to share your memories by visiting his eternal tribute at www.odonnellfuneralservice.com.
LINKS
Peterson-O'Donnell Funeral Home

The Greenfield Recorder
http://www.recorder.com