Cheryl
Baldwin
Hamby
What do you remember about Cheryl? Share your stories and photos here, and invite others to come share their memories.
The brightness of Cheryl's heart and very soul were demonstrated in her profound dedication to her faith in the Lord as well as in her belief that the world can be made a better, more hope-filled place. Along the way, we both learned the power of simple truths - that life is without guarantees and that every moment counts. We also learned that love endures beyond the pain and sorrows of life. If Cheryl were able to choose one thing to outlast all others, it would be love.

As difficult as it is to bear losing such a caring soul and beautiful, sweet spirit, her loved ones find peace and solace in knowing we will someday hold her in our arms again and she will look into our eyes and say, "Welcome home!" Cheryl was diagnosed with a form of dementia known as Frontotemporal Lobar Degeneration. The disease took her use of language and movement, but it never took her smile.

Cheryl joined her beloved parents, Col. Joe Cromer and Mother Bernice on Thursday, June 11, 2020. Cheryl was born February 3, 1948 in Dallas, she grew up in Tyler with many friends. She was a graduate of Robert E. Lee High School and attended Tyler Junior College. She retired in 2014 from McKool Smith law firm in Dallas after many years of faithful service.

Cheryl is survived by her best friend and husband of 21 years, Joe; three loving daughters, April Lindskog (Thomas), Holli Boulware (Eric) and Carrie Beck (Michael); step-children, Chris Hamby (Teri) and Heather Long (Judd); twelve grandchildren; Jillian, Kaden, Eliza, Zane, Devin, Noah, Xander, Brooke, Morgan, Taylor, Luke and Judson; two brothers, Lynn and Tim Cromer; and two "good-for-nothing mutts," Rudy and Lulu, who loved her dearly.

Services will be held on Monday, June 15, 2020 at 10:00 a.m. in the Chapel of Stewart Family Funeral Home with Dwight Sowle officiating. Visitation is scheduled from 4:00 to 6:00 p.m. on Sunday, June 14, 2020 at Stewart Family Funeral Home. A private interment will be Tuesday, June 16, 2020 at DFW National Cemetery.

Pallbearers will be Thomas Lindskog, Eric Boulware, Michael Beck, Chris Hamby, Judd Long and Bernie Beam. Honorary pallbearers will be the officers and staff of Stewart Family Funeral Home.

In lieu of flowers, memorials may be made to The Hospice of East Texas Foundation, 4111 University Blvd., Tyler, TX 75701.
LINKS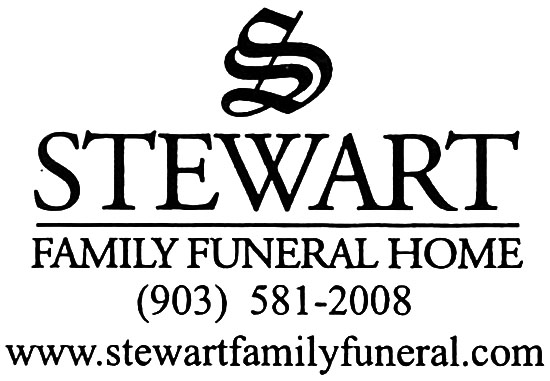 STEWART FAMILY FUNERAL HOME

Tyler Morning Telegraph
http://www.tylerpaper.com
Memories
Looks like something went wrong.
Reload the page and try again.