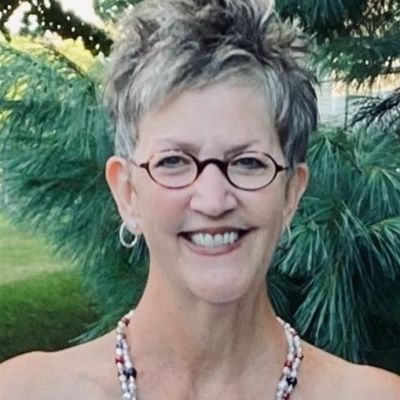 Cheryl "Cheri" Ann
Loveless
What do you remember about Cheryl "Cheri" Ann? Share your stories and photos here, and invite others to come share their memories.
"'Tis a fearful thing to love what death can touch.... a holy thing to love. For your life has lived in me, your laugh once lifted me, your word was a gift to me..."

Death came to Cheryl (Cheri) Brock Loveless on April 21, 2021. For 64 years she lived with intention, regarded her family as her greatest treasure, loved her husband madly, and immersed herself in deep friendships while working for change.

A visitation will be from 5:00 pm until 7:00 pm, Friday, April 23, 2021 at Hoffmann Schneider & Kitchen Funeral Home, 3860 Asbury Road. Masks are required, and we ask that you please respect our current social distancing requirements. If you are not feeling well or are unable to attend, we encourage you to visit www.hskfhcares.com to send a message to Cheri's family.

A Memorial Service for Cheri will be 10:30 am, Saturday, April 24, 2021 at St. Luke's United Methodist Church, 1199 Main Street, Dubuque with Rev. Stephanie Schlimm officiating. Masks are required, and we ask that you please respect our current social distancing requirements. The service will be live streamed on Hoffmann Schneider & Kitchen Funeral Home's Facebook page and St. Luke's website, www.stlukesdbq.org and will be available to view later at www.hskfhcares.com.

She was born in Oskaloosa, Iowa on June 6th , 1956. She grew up with her parents and two siblings, in a small neighborhood filled with children. Both of her grandparents lived in the same town and added to the stable experience of childhood. She moved to Washington, IA after High School graduation where she met the love of her life, Mike Loveless, and married him within a year. As she told her Dad before her wedding day..." he didn't have to worry about walking her down the church aisle... because she was going to run!" She learned much from Mike's family and living in a small farming community. Here she became a Hawkeye fan and enjoyed football and basketball with her husband. The started a family together with Alison Christine and Morgan Elizabeth being born to them- and the girls taught them how to become parents. They made the greatest lasting family friends in the Washington area. Following the Farm Crisis of the 1980's, they sold their Allis Chalmers' Agriculture business- began by Mike's family-and moved to Dubuque, IA.

They arrived in Dubuque in 1990 at the beginning of the renaissance of this great river community. Their pastor in Washington had advised them to visit the "old church" downtown. They did and quickly became members of St. Luke's United Methodist Church. Raising their children in a new home became easier as they participated in their church community through mission work, service to the community, and later, after their daughter became a teacher, mentoring at Prescott Elementary school.

Mike and Cheri began their own business in 1999, Loveless Tri-State Insurance. Over the past 20 years- they have had the privilege of serving their clients and growing a business from scratch. In 2017, Cheri completed a 3-year program in La Crosse, WI and became a Spiritual Director. Being born with a love for people and their stories, this seemed a natural fit. Through this process, Cheri formed special friendships with Sister Ginny and Sister Marci.

Cheri said: "Leaving this world for a new adventure seems a little premature...but we will all die. I have lived a charmed life filled with the sweetest essence of what matters. I am so thankful for the people I have met, the laughter we have shared, and have hope for the changes we may see again. I believe that goodness will prevail. I pray that All people will matter, All love will be valued, and the Hawkeyes will win the FCS Bowl Championship series in my husband's lifetime!

I've left you in good stead...because our daughters are in the world along with our 5 beautiful grandchildren. My husband will continue to be their guide and love. For all of those of you who helped our family in this long journey of cancer...we are thankful- because you helped me heal, get back on my feet again, keep going, and remain faithful. The journey was so worth it!"

Please take care of my family... Michael Loveless, Alison (Bill) Hutchins, Morgan (Corey) Lansing, Maddie Roling, Sophie Hutchins, Aiden Artist, Everett and Maelyn Lansing. My Mom, Marcy (Bill) Ryan of Port Charlotte, FL, my brother Denny (wife Denny) Brock of Ankeny, IA, sister Toni Zeigler of Slidell, LA and her love Darrell. Butch and Linda (Loveless) Reber of Sun Lakes, AZ and our beautiful extended family and dear friends of a lifetime, especially my besties and our Friday Night Group. Share a story...remember when...remind each other of all the fun we had and how we lived. Most of all...take care of each other, be a good friend, and look out for those who are standing along the margins of life. It is our purpose to invite them in to be a part of the group.

I am most thankful for Dr. Christian Schultheis-formerly of Dubuque, IA and presently at the Mission Cancer and Blood Center in Des Moines, IA. Christian has loved and cared for our family so personally. Everyone should feel so blessed by their physician. Also, a deep gratitude for Hospice of Dubuque, specifically Nurse Betsy, Social Worker Jenny, and Receptionist Lori. This group of people are evidence of angels on earth. And love to Pastor Stephanie Schlimm of St. Luke's for her abiding faith, listening skills, and demonstration of compassion and love. Be Well."

In lieu of flowers, memorial gifts may be made in Cheri's memory to the following: Jesus Fund (A food voucher program at St. Luke's UMC, Dubuque), Hospice of Dubuque, or a gift to the Avery Foundation (a local foundation that assists those affected by cancer).

Hoffmann Schneider & Kitchen Funeral Home and Cremation Service is in care of the arrangements.

A photo tribute can be viewed and condolences sent to the family by visiting Cheryl's obituary at www.hskfhcares.com.
LINKS

Hoffmann-Schneider & Kitchen Funeral Home & Cremation Service

Telegraph Herald
http://www.thonline.com
Memories
Looks like something went wrong.
Reload the page and try again.